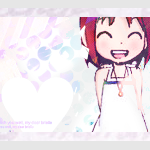 Proud Demyx/Kairi Shipper
Joined

Oct 12, 2007
Messages

4,281
Awards

1
Location
So if they don't mean to exist, why exactly are they here?!
They are there because they each had strong hearts in their lifetimes, and so their bodies did not fade into darkness when their hearts became Heartless. IMO, the Nobodies do exist, because by saying they are not meant to, it implies that they do exist but they are not supposed to.
The crime of murder, in its basic form, is the
unjust
killing of another person. Note the word "unjust". Self-defense doesn't qualify for that, and that's basically what Sora was doing: protecting himself and his loved ones from people who wished them harm. The same goes for the idea that killing Sabor was animal cruelty: when an animal tries to maul you to death, you have every right to take out your Keyblade, spear, gun, or whatever weapon you happen to have on you and defend yourself.
So Sora is not a murderer in the technical sense, he was merely defending himself and his friends.