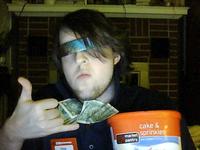 Joined

Jun 9, 2005
Messages

9,258
What can I say? If it works, this works better than the Wiimote...
Mmm, no, from what the article actually says, this senses...squeezing...not motion.
I understand people call it stealing, and it is definetly inspired and based on the Wiis controller, but this one works a lot better.
Yeah, the squeezing part works better...not the pointing, or the motion sensing..or the intuitiveness
I mean, every move of your fingers is registred, so the games will feel even more real then Wii games.
Mm, no, the
squeezing
involved in the game will feel more real...cause you know, we're always squeezing in games
Boxing games will be awesome. Though Im still against Manhunt type a games with these kind of stuff.
The forming a fist part of the boxing would be fantastic with this..not so much the actual boxing part...cause you know, this registers squeezing, not motion
Anyways, I agree, its stealing, but I like the revision that could work a whole lot better.
We've already had this before, it's called the Power Glove, it sucked.