Joined

Feb 7, 2006
Messages

4,047
Website
As an early Christmas present to all of you we've made several changes to KHI over the past month. Some of them you have have noticed; others have been subtle. As you read on, you'll see all the changes we've made. And yes, we do have many more plans for the near and distant future. So don't worry. So without further ado please read on as my fancy organized list will inform you on many things:
Check out my new style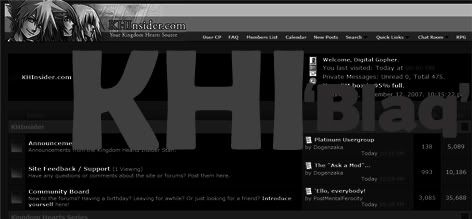 Say hello to KHI Blaq
​
We've had many discussions over the past five months over the skins issue. Some wanted to keep all of them and get more, others wanted to get rid of some and cut down. Ultimately the latter won. So we decided to leave the
decision up to you
. As much as we all love "KHI Blaq" we are sad to see two of the skins go. As you may have now noticed both Cobalt and Ambiance are no longer available.
We've now cut the skins down to four. Two light skins (KHI Ultimate and KHI Lite), and two dark skins (KHI Blaq and Tren_z). We hope that everyone is satisfied. Yes, there is a trend in the names of those skins and we have no announcements at this time about Tren_z, it's here to stay as far as we know.
Going Platinum
The KHI Platinums, we like them
​
As we brought up a few weeks back, there is now a new usergroup here at KHI. Becoming a Premium member just wasn't enough anymore for some so we gave everyone a new goal to shoot for. The Platinum members are a key part of KHI. They've all accumulated over 3000 posts and have helped our community grow by sparking conversations, helping new members and lending a helping hand to members in need. For that, we thank you.
We also have to thank all of you for being extremely patient over the past few weeks. The process of adding a group shouldn't have had any hiccups like it did, but some things went wrong and there was some miscommunication and you guys stuck through (most of) it. We know they're are still some things wrong but we are always fixing them.
I'm a Male, yo
I promise
​
We added a very small addition to all the skins that most of you noticed. The Gender icons! Nothing very exciting, I don't even know why it has it's own section here. But it does, so there.
I wanna be on Staff

This, is not you
​
We've had a few additions to our excellent staff here at KHI. Our communty is large and we need some helping hands every once in a while. I know you're all wondering "Why wasn't I chosen? I'm better than this person, I should be a mod!" Unfortunately it's not that easy. Members on staff have been an integral part of KHI for as long as they've been here.
Ryuuzaki - Has been promoted as a General Video Games moderator.
Sparkle Motion - Has been added to the Graphics and Fan Art moderation teams.
Frozen Inferno - Has come out of retirement and is now moderating both the General Video Games' section and the Graphics section.
The Banhammer has Many Uses
There are special circumstances, sometimes
​
The Marauder, Dogenzaka and Hokage
have all been unbanned. Yes, they were banned permanently, but sometimes certain individuals understand what they did wrong and the staff thinks that they may come back. Albeit on an extremely short leash. There are no 'Warnings' or 'Chances' for these members. One slip up and their accounts are going to be deleted, and their IP's will be banned.
These are very unorthodox circumstances so do not ever expect you'll be unbanned.
The Future
So, what's next?
​
This is the start of what looks to be a very, very promising 2008. So please, stay tuned.
OH, and this isn't it for '07. We have a few more tricks up our sleeves that are sure to keep you all busy till our next update.
Happy Holidays!
KHI Staff
P.S. We love you.
Last edited: