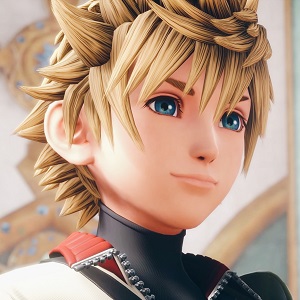 Joined

Oct 22, 2010
Messages

10,531
Awards

37
Location
Lot of good points in this post:


I completely forgot about "young" Ventus (Since ya know, he doesn't age/change physically during that time from what I can tell). A very good point to bring out that show another *key* difference between Roxas/Ven. I'm fairly certain Roxas (Days) never showed that kind of insecurity, confusion maybe, but nothing like young Ventus.
It took place four years before BBS's actual time, since Sora was born the night MX took a broken Ven to Destiny Islands after he screwed him over.
If we don't count MX scarring Eraqus's face before leaving after they discussed the keyblade war, Ventus might be even Xehanort's very first victim.
That was just because they were too lazy to make a younger model for Ven in BBS. One might notice though that he did not have his shoulder armor and the criss-crossing straps on his chest during the flashbacks.
Ventus is supposed to be 9/10/11 years old during that time, frankly said, still a child. (We don't know the exact ages of the BBS cast, but I would put Ven in actual BBS time no younger than 13 and not older than 15.)
It's even more obvious with Aqua and Terra though, who look exactly the same as well because they had no extra model for their younger selves.
Yep, that's indeed a difference between the "twins" and
also
between Ven and Sora. Sora had a comfortable, nice childhood while Ventus...well, he was with Master Xehanort. You do the math.
Also, this is only second-tier canon information, so should be taken with a grain of salt, but the BBS novels say further that Ventus is apparently an orphan who never even met his parents. Combine this with Ven's general gentle nature, the way MX handles things and we might have a plausible reasoning for his insecurity and timidness.
Xehanort just found him during one of his travels (that is again confirmed by the Xehanort reports in BBS itself) and took him in after seeing the potential of his heart.
It's interesting to think about the different forms of darkness, well said on that part. I wonder though about how that would, or should, have affected Vanitas. From what I can tell, he shows no signs of Ventus's form of darkness in him. Vanitas was very confident in fact, overconfident even. Not once, I'd think, did the thought that he would lose ever occur to him. Even as he was "dying" he was still reaching out for the Ki-Blade, grasping for it to continue fighting. Perhaps its an opposites thing, since Vanitas is Ven's darkness, he was in control of it/conquered it.
These feelings made Ven's darkness grow, they were just another trigger for it. Instead of hate, rage and greed it were insecurity, fear and pessimism.
Xehanort noted in his reports that he was frustrated by Ven not giving in and using his darkness, the boy was just too kind and gentle to do it, so he decided to use force by pitting him against the heartless.
Seeing how utterly terrified the kid is in that scene I would assume his fear let his darkness grow enough to a point where Xehanort could make a new heart out of it by extracting it.
As for Vanitas, we don't know what happened during the four years with him while
he
was with Master Xehanort. The Vanitas we see in the game BBS might not be the Vanitas that initially was born. Xehanort also said
empty
creature, so at the beginning Vanitas would have been blank, just like Roxas was, and had to develop.
Yes, he was clearly overconfident and also underestimated his opponents, with disastrous consequences for himself when he had to realize that over his journey in BBS Ven overcame his initial "weakness" and gained a determination he didn't even understand.
Of course Vanitas wanted to continue fighting, his expression then also speaks volumes about how he is totally shocked that Ventus would choose to shatter his heart a second time "just" to prevent the x-blade from being completed and to deny their forced fusion.
If he was n control of the darkness or the darkness in control over him is a subject to debate though.
MX: "He has no control over the darkness in his heart. The keyblade is not his to bear. He's an abomination beyond hope of salvation."
Quite right, it's not as if the other Organization members had an issues going about their daily "lives" without a heart. For all we know Roxas, if he does come back in DDD/KH3, could just lose Ven's heart (If its in him) along the way (Either passing it on, or it's removed forcibly) and continue as he was, albeit lacking some concrete emotions, but remembering what it was like and acting as such anyway.

Random thought and scenario, but:

Lets say Sora get's Key'd by Terranort to remove Ven's heart to renew the Ki-Blade plan. Instead, as it was before, Roxas is born. If the same thing happens to Roxas... uh... would another nobody be born from him (lol inb4 Xion's return)? I wont say a heartless would be born, since I'm assuming the heart would be taken by Terranort, but still, isn't it kind of the same?

Anyway...
That was also because the Org members, unlike Roxas and maybe Xemnas, were normal nobodies and had the memories of their original selves. They also didn't co-exist with their former selves like Roxas did.
Right now, Ven's heart should be with Sora's again while Roxas's mind and his memories are sleeping inside Sora's heart as well, beside Xion (who's forgotten, but also there) and Ven (who's injured).
Roxas would only be "reborn" that way if
Sora's
heart is removed and becomes a heartless again.
MX extracting Ven's wounded heart from within Sora's can have many (mostly negative) effects on both Sora and Roxas (and possibly Ven as well, giving his status), but I don't see that Roxas would then be already reborn.
Again, to Roxas
Sora's
heart is the key because he was originally born from it.
If Terra-Xehanort extracting Ven's heart would cause Sora's heart to be overtaken by darkness, then we would get heartless Sora and a reborn Roxas.
If that doesn't happen though, I can only see the two hearts and Roxas
in
Sora's heart being affected.
Well stated, can't add much else to it except to wonder how KH3 will settle the matter, if it does that is.
Oh, I do think that KH 3 will settle that matter in some way, it just remains to be seen if it will be settled according to the possibilities we discussed here now or in another way.
This reminds me, I still have to go an actually finish Coded (I spoiled the ending for myself before I got the game

).

I think, correct me if I'm wrong, the Keyblade came back to D-Sora because he developed a connection, through Sora's friends, to Sora himself in a way.

Although, the Nomura quote makes me think that might be wrong if D-Sora did develop his own heart.
That is also a possible interpretation, sure.
It can be either, I won't settle on one of those possibilities yet.
Aaand finish days to, always letting myself get distracted by other games...

Anyway, you're point is well said.

Even when Roxas had his "I see, that's why" moment, he still chose to keep on fighting for his own existence. Afterwords: Roxas can't have his own body without Sora losing his heart again, and his attempt at control failed (Man... Roxas's weakness to "surprises" always gets him). I obviously can't speak for him, but Roxas might have just thought, Sora ain't to bad of a guy, and since I don't really have any other choice, why not just go with it?
Exactly like this I interpret it as well.
It is also emphasizes in Days and KH2 flashbacks. Yes, Roxas indeed wanted to find and meet Sora, because he wanted answers. But he never intended to give up his whole physical existence for Sora.
In the very end there was no other way though, as if he continued to exist in
that
form he had during Days and KH2 at the beginning, he would have screwed over both Sora and Ven. That's what made the whole deal so bitter.
It's also somewhat funny that Roxas's two significant defeats were both because of the surprise element (Sora winning was protagonist-bonus anyways, lol). Riku more or less also cheated by using Ansem SoD's powers.
That was actually what Roxas did in the end. He was, just like Axel before, touched by Sora's heart and realized Sora to be really "nice" and a worthy other half.
Since there was really no choice and the process not reversible at that time without hurting Sora he decided to accept his fate, also ceasing his mental resistance allowing Sora to access Roxas's half of their power, resulting in the ability of going Final Form.
So while gameplay-wise you use your allies to turn into final form, story-wise it was actually Sora and Roxas going together.
Indeed, for all we know Roxas/Xion/Namine could just develop their own hearts (Or already have). Another wait and see thing.
It is a possibility (and my personal favorite to be honest).
But I won't be totally disappointed or rant if they choose to
not
go that road.
Just me being patronizing, no offense intended to KevVentus.
Ok then.
Master Xehanort serves as one of my, if not the #1, favorite villains. (Not gona lie, I have an MP3 of his more impressive quotes to listen to from time to time).

It's not to say I agree with his actions/views, I can understand and admire them but don't exactly agree, but as a character I like him for who he is.

Powerful, manipulative, cunning, ruthless, ect... all wraped up into old man badass. (I actually don't like Terranort as I do Master Xehanort, simply because he loses the wise old man (Evil wise old man that is) appeal.)

"Only now... have I truely won!"
(This quote man, even as Terra beats the living crap out of him...)

One of the only things I do question about him from BBS is why didn't he try to manipulate Aqua? He doesn't even really interact with her, at all, except during the final episode. Even then its more about Terra then her. She was a threat to his plans that I didn't really see him do anything about.

There was a hint of her possibly being used as a backup if Ventus failed to play his part with the Ki-Blade, and he sent Braig to distract her, but that's all I noticed.
Ah, I see. Yep, MX's voice was indeed impressive, gotta love Leonard Nimoy.
Admire them? Like stealing another persons body or shatter the heart of an innocent kid...brrr. Such things rather deeply disgust me and make me wanting to beat the crap out of him.
But maybe exactly these chills are what make him somewhat admirable, from the negative spectrum.
He's a sadistic, ruthless grandpa that shamelessly uses everyone around him and revels in seeing others suffer...making you as player
want
to beat the crap out of him.
I can clearly understand why Terra is so royally pissed at him.
Oh, he seemed to have underestimated Aqua a bit. At first she should only be struck down in order to plunge Terra into darkness, then Vanitas decided to use her as a possible backup and when that wasn't needed anymore they switched back to plan 1.
Problem was only Aqua wouldn't friggin' go down, lol.
In order to at least partially destroy Xehanort's main scheme all three of the TAV-Trio did an important part, yet paid all an enourmous price for it.