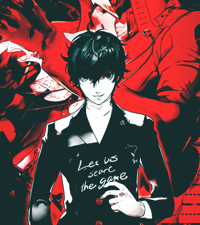 ᴋɪɴɢᴘɪɴ &#743
Joined

Mar 30, 2010
Messages

3,487
Awards

18
Website
As you probably already know, our very own Sign (Cecily) and Master Spockanort (Arielle) are at this year's E3, hard at work to get as much new information about Kingdom Hearts 1.5 HD ReMIX and the newly revealed Kingdom Hearts III as possible. Today they got their hands on a live demo of 1.5 at the Sony booth, and as they were exploring the game's menus, they stumbled upon a partially-filled menu of the game's many trophies! Here's exactly which ones they saw:
Kingdom Hearts Final Mix
Where the Bells Toll
The Rabbit Hole
Junior Hero
Member of the Tribe
Magic Lamp
Honest Soul
Master of the Seas
Pumpkin Prince
Pixie Dust
Pooh's Friend
Record Keeper
Story Teller
Searcher
Professor
Top Dog
Best Friend
Mini-game Maniac
Synthesis Master
First Synthesis
Synthesis Novice
Synthesis Amateur
Synthesis Vet
Gummi Ship Collector
Customizer
Top Gun
Test Pilot
Veteran Pilot
Ace Pilot
Re:Chain of Memories
Sleight Master

Card of Memories

Woven Memories

The Truth

Hard Hitter

Confronting the Darkness

Challenge from the Inner Darkness

Overcoming the Darkness

Undefeated

Natural Player Sora

Natural Player Riku

Novice Player Sora

Novice Player Riku

Veggie Master

Ace Pilot

High Jumper

Sky Diver

Bee Buster

Moogle Millionaire

Regular Customer

Room Creator

Card Master Sora

Story Teller Sora

Character Professor Sora

Mini-game Master Sora

Card Master Riku

Story Teller Riku

Character Professor Riku

Mini-game Master Riku

Novice Deck Builder

Premium Card Maker

No Escape

Card Braker

Interceptor

Duel Master
358/2 Days
Days of Contemplation
Days of Reflection
Where the Heart Lies
If you weren't counting, that's 66 trophies! Remember that this is by no means a complete list; there are 110 trophies in total, many of which we don't know the English names for yet. (If you want to see the Japanese trophy list, click here.) So, it looks like players will have their work cut out for them once they get the game! 
Kingdom Hearts 1.5 HD ReMIX is released on September 10, 2013 in North America and September 13, 2013 in Europe.