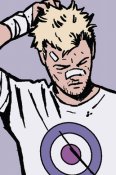 Joined

Dec 8, 2004
Messages

6,797
Awards

6
Location
Where did I assume people who drink are alcoholics?
Go ahead.
I don't drink anyways.
I find alcoholics weak and pathetic anyways.

If you need alcohol, I find it quite pathetic.
As if you could imply anything else.
The other night I had some vodka. I didn't get drunk. Tomorrow night, I probably will be getting drunk. Doesn't make me an alcoholic. I don't need it. I can live perfectly without. But every now and then I do like to get drunk. It's hardly pathetic, I'm just having fun.
What is pathetic is that your views are so narrow.
I've had a couple of puffs of weed. Not enough to have gotten stoned, though. I'm not dependent on it. But I'd probably do it again if given the chance.
My reason for why pot's legalality is that it's causing more harm illegal than it would be if it were legal. Smoking weed is not murder. Going through all the motions of prosecuting someone for something so small as weed and then putting them in jail costs more than it's worth.