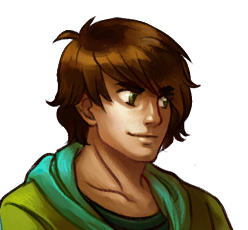 Joined

Feb 23, 2009
Messages

2,694
Age

27
Location
Website
This first part is called bad ideas because I wrote it all in one sleep deprived morning and it was probably a bad idea for a number of reasons.
It also probably has something to do with how the character acts, I guess. Let me know if any part of it is hard to follow for whatever reason, I'm trying to see what works and what doesn't.
---
01: Bad Ideas
​
The world is full of important things. People who solve impossible issues, machines that produce essentials needed for the human race to survive, and ideas that revolutionize the entire world in such a simple way, such as creating a smart phone that can connect to the world wide web wherever it happens to find itself. Then there are the unimportant things. People who look at impossible issues and say "meh.", machines that produce nothing but headaches, and ideas like "wow, my smart phone can connect to the world wide web no matter where I happen to find myself!". This is story is about a man in the latter category who, no matter what predicament he might find himself in and no matter how hard he tries, will ultimately be of little or no consequence. Unless the consequence is a bad consequence brought on by poor timing, lack of intelligence, lack of proper judgment, or any combination of the three. And like all stories worth telling, this one starts in the bathroom. Specifically, one with a clogged toilet.
Alexander Blanket was, understandably, slightly upset. There was a problem, and he'd be damned it if was his fault. Despite the fact that he had decided against his doctor's prescription to ingest an entire bag of spicy poppers, as well as the hurtle of him being unable to understand the prescription in the first place, and even though near the end of the night he vocally said "Screw it, I'm eating these anyway.", there was no way in his mind that he was to blame for the clogged toilet. Since it wasn't his fault, then obviously it was the toilet's fault, which is something Alex kept telling it with every ill-thought-out thrust of the plunger.
"Stupid toilet, clogging up on a Saturday…" He grunted before stopping to whip his brow. "Shouldn't have gone with a low-flow." Alex jingled the handle and peered into the bowl as nothing happened. He sighed, but wasn't disappointed. Five minutes ago he had tried the same thing with more explosive results. The man put the plunger in the nearby bathtub and rubbed his weary eyes. He then made a disgusted noise as he rushed to the sink.
"Sod it." He told his reflection a few seconds later. "You'll deal with it later, alright? We'll go out, finish up some errands, get some Chinese food, then fix up the toilet." He nodded at his reflection, his reflection nodded back. He quickly changed into slightly less foul-smelling clothing, walked outside his house, locked up, and made his way to his car. Pulling out the key, he inserted it into its slot and opened the door. He was about to enter the vehicle , but he hesitated. "This is not a good idea." Something inside of him said. He held the car door open as something inside of him also said that a much better idea would be to go right back into his house, turn on his computer, and watch the remaining season of a show he had started just the night before while he enjoyed a bag of spicy poppers.
"That's a good idea." Alex confirmed out loud. "But then I would have to worry about the toilet some more, and I'm not in the mood for that." The same something inside of him was about to begin explaining to him that the toilet was all grown up now and could take care of itself, but something else distracted him. That something happened to be a rather large truck with the words "AXEL GREASED PLUMBING" scribbled on the side going well over eighty miles an hour in Alex's residential neighborhood that also just happened to collide spectacularly with Alex's car, destroying it outright save for the single door that Alex was now helplessly clutching with fear in the same position he was just in two seconds ago. The truck skidded to an impossible stop, parking expertly by the sidewalk. A hubcap landed by Alex, who was still holding on to the car door with unhinged panic as his brain tried desperately to interpret what the hell just happened. Currently it was beginning to understand that the car that was just in front of Alex was no longer anything at all.
"'Ello!" Came a female voice from the inside of the driver's seat of the truck. Alex vaguely made out the sound of a door opening and closing as his brain began to scream "TRUUUUCK." The owner of the voice made her way towards Alex.
"Hello?" She repeated.
"Car?" Alex asked simply.
"No," The girl answered back. "I'm not a car."
"My car."
"I haven't seen it." The girl held out her hand, offering Alex to shake it. He offered her a car door.
"Sorry, who are you?" Alex asked as the girl began walking to his house. He followed her.
"Lucy." The name made him squirm. To him it was always a name that invoked mystery and uncertainty.
"Okay." When they reached his door, the redheaded girl reached for the knob and turned. To his surprise, it opened with no resistance and she walked in. "Sorry," Alex asked again, "who are you?"
"Lucy." She repeated.
"No, I mean who in the world are you? You destroyed my car with your truck and waltz into my home like it's no big deal."
"Truck?" Lucy asked. "What truck?"
"The big one. With the Axel Greased Plumbing written on it."
"Oh!" She stated, clapping her hands once. "That's not my truck though." Alex was getting frustrated.
"That's not the point."
"Then why bring it up?" She had made her way into his kitchen and began searching for…something.
"I didn't bring--look, the point is you wrecked my car and I would very much appreciate if you at the very least gave me your insurance information. And kindly leave my house."
"Okay." She said as she opened a cupboard and looked as if she was disappointed to find nothing but plates. "Why don't you own any fruit?" She added.
"What?"
"Fruit." She closed the cupboard. "The stuff that grow from trees."
"I know what a fruit is. I keep some bananas in the oven."
"Why the oven?"
"Because I never use it. And I don't own a fruit bowl."
Lucy opened the oven and grabbed two slightly mushy and blotched bananas.
"We're going to need these." She said as she gave one to Alex.
"What?"
"We. That means the two of us, or all of us depending on the context." The man sighed. He should have just stayed inside and tried to finish up with his toilet business.
"I think you mean you. I don't need a banana. My potassium intake is fine. The doctor told me so just the other day." She ignored him.
"Come on." Lucy told him as she walked back to the front door. Something was bothering him. The girl in general seemed…off to him. Almost unsteady, like a top that's been spinning for well over a minute and had began to wobble but kept going anyway.
"Are you sure you're not just the plumber who's come to fix my toilet?" He asked hopefully.
"No." Lucy chimed as she opened the front door. "Why would you think that?"
"No reason." He answered as the girl walked outside and, for whatever reason, Alex followed. "Well, actually, I'm starting to think you think I'm someone else."
"I think you're Alexander."
"I think I am too."
"Then you are who I think you are."
For a moment, Alex thought about closing the door and going to bed. Maybe when he woke up, none of this would have happened. He would wake with a stomach cramp just as he did today, and he would make sure to leave the house early to avoid this collision introduction. Instead, he walked outside, banana in hand, and locked the door.
Meanwhile, just down the road a bit, a much more important man named Alexander Bane was waiting furiously for the arrival of a large truck with the words "Axel Greased Plumbing" written on it, unaware that the truck had stopped elsewhere and was not going to pay him a visit.
Last edited: