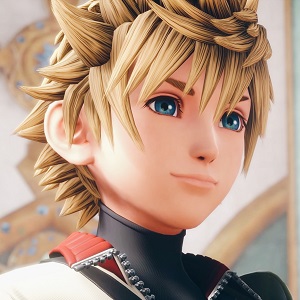 Joined

Oct 22, 2010
Messages

10,531
Awards

37
Location
Re: Seven Guardians of Light and Thirteen Seekers of Darkness.
I find Nomura's trolling quite amusing. Also by him doing it this way, we get more to speculate over and discuss.
I just don't quite get why his heart did that instead of becoming a heartless, might have to do with how his heart left his body.
So you think it's more likely that Eraqus and Terra just hindered Xehanort of banishing Terra's heart, which then led to him falling into the gate and losing his memories?
Sadly, several large parts of the fandom, especially the more casual fans and the most notorious KH 3-whiner don't see it that way.
Because Riku's heart didn't succumb to its own darkness or was captured by other Heartless, it was simply banished and ended up in the dark realm.
I do not make many assumptions on this mystery of the story as there are too many variables unknown right now, although I do heavily suspect that Xehanort failing to banish Terra's heart is either due to Terra's and Eraqus' combined influence or just Eraqus alone.
As we learn in DDD the memory loss wasn't that severe (or the very first experiments of Ansem the Wise actually lead to them being restored very quickly) and the dark portal was opened by the Guardian. How and to which extent Eraqus and Terra were involved in this or if it was just Xehanort losing control over the immense darkness for a short time I won't dare to say with conviction. It could also be that Xehanort was doing this on purpose in order to lure Aqua into a trap to get rid of her.
Yeah he got a glimmer of hope and went for it, sadly that led to tragedy for both him and Aqua.
Ansem was quite surprised. He even stated it was impossible. He really seemed to have been sure he won and that Riku was under his control.

Yeah, but by letting others help him his ties to them also grew stronger.
Great way to deal with your darkness, go shut it into other people! xD
But really I see his journey in dealing with it while be quite different from Riku's. Also he'd have Riku that could help him on this journey.

Oh okay. Yeah Aqua definitely had more on her plate then Sora did. While Sora did display similar forms of distrust and wariness I think he had a little more trust in Riku, then Aqua had in Terra.

Well she didn't fail out of lack of trying, she gave it her all, it just wasn't good enough. Though mainly because of the circumstances, if she hadn't been knocked out she might have been able to save Ven, but it still would have probably been to late for Terra.
I wonder who actually got the worse fate Terra or Aqua.
After all Aqua gave it her all and always came so close. She gave up her freedom to save a friend, who she will learn was responsible for a lot of pain and suffering in the universe. Also she had to witnes that the worlds she tried to protect had fallen into darkness and later on she learned that none of her friends came to their rescue but another boy with the keyblade in hand. Worse if she remembers her encounter with Sora, she'd learn that the boy she wanted to spare the fate of fighting his best friend ended up doing just that.
Well, it was sort of the point that BBS would end on a bleak note, so that was unavoidable.
So that seems to prove our assumptions correct, unlike Master Xehanort, who hold his guard up the whole time, Ansem got a tad overconfident because Riku let him in willingly at first. He didn't count on Riku's bonds with Sora and Kairi still being so strong that he would be able to rebel this effectively. That's probably also the main reason why Ansem banished Riku's heart out of its own body afterwards, he wanted to make sure such an incident won't hamper him again.
It goes also very well with the continuous theme of strong bonds between hearts in the series. Just because Sora is the one who can do this the easiest and does it most often doesn't mean other characters cannot do the same.
Yea, although Terra wasn't so thrilled about it in BBS, it's nonetheless a great offensive technique. rofl.
If he even still needs that, Terra's words in Blank Points indicate heavily that he already learned a bunch and having this inner struggle with MX for so long surely shaped his senses for this stuff better. For the final steps though, also for using his darkness for good in the future, Riku is probably the best teacher available for this task.
Heck, even Mickey was highly impressed as he said in CoM.
Yep. That may be explainable with Aqua's flawed views she got from Eraqus though, as Sora was never really exposed to the absolutist views for such a long time. Sora is also more instinct-driven and has no higher-placed duties to adhere to while Aqua goes more on logic and has her "Master-duties", which conflicts with her concern for her friends sometimes.
Nonetheless, you probably can be the darkest, biggest asshole around, if you're willing to atone and make amends both Sora and Aqua will probably give you a chance (even if he/she doesn't forgive your dark deeds).
That's why "circumstances" is the main point in this argument, one could make more points about why she let Braig get away instead of finishing him off and as the best magic user (after Xehanort) around didn't use fire magic to melt the ice Ven was encased in, but that would only detract from the main issue.
I don't compare people's sufferings against each other, all three got fates worse than death and that is enough. I hate such debates "but X suffered more than Y", getting your heart (which is practically the proof of life in the KH-Universe) nearly completely shattered (twice) is horrible, being imprisoned in your own body which is used as a puppet by your own worst enemy is as well just as being dumped into a world of darkness without any possibility to do something to help.
Terra wasn't responsible for anything happening after BBS, that was all Xehanort's doing, and to Aqua it was looking like Terra was about to regain control, so she saved "Terra-Xehanort" with the best intentions, probably hoping that when Terra finally regained full control he would take care of Ven and finally search for her.
That this all didn't come to pass and what she learns from Ansem the Wise will surely get her spirits down, just like the news of Eraqus' end, Ven's state after the final battle and the state of the Land of Departure as she finally saw it, but she will pull through that, because she always has.
The tears she sheds at the end of Blank Points after hearing Sora's name are tears of hope, not despair.
Yes it would appear so.

Yeah though I think Riku would have liked to have approached Roxas differently, if the circumstances were better. But he had to act fast, unlike with Xion where he could take his time and let it be her decision. If they didn't stop him then and there, Roxas would have gone through with his plan and probably would either get captured or worse. This does not however change the fact that they ignored that right, though DiZ was convinced he had no such right, so maybe that played into it.
But Roxas also stated he acknowledged it had to be Sora. If it were the other way round things would have gone differently and probably in a worse way. One of the biggest differences between Roxas and Sora in my opinion is Sora's ability to connect to anyone, which is needed for the story to come and for the kh2 story to an extent otherwise the people of the worlds we visited would have been off quite a bit worse. I think Riku and Namine realized that Sora was needed and because of that decided to do such a thing, sure they also had more feelings for Sora but I do think they had more trouble doing such a thing.
Namine definitely seemed to be the one that struggled the most with these decisions. She actively tried to make the transition easier for both Xion and Roxas.
While they didn't have the moral high ground, they were more troubled by it and not as indifferent, or so it seemed to me. I'm sure Xion also considered Roxas' wishes, but knew it was important for Sora to wake up.

RAX is definitely the best developed trio, I mean you could actually tell that Xion and Axel were friends, that they cared for, trusted and liked hanging out with each other. I feel the Aqua-Ventus relationship was better explored than Riku-Kairi. After all With Ven and Aqua we know they have a Big Sister - Little Brother kind of relationship and that she is quite protective of him. Let's just hope that in KH3 will have a lot of development of Kairi and Riku's friendship, sure KH1 and 2 had some nice moments, but not really enough to define what their relationship is.

By the way what do you think of the list I posted? Did I forget anyone?
Lol.
Well, granted, although even without all this Roxas has made it
very
clear several times that he wants to be his own entity. He wanted to know about where he came from, what his past was (Sora), but he never intended to give everything up for that.
That Roxas went on a rampage and attempted to destroy the Organisation together with the fake Kingdom Hearts was also at least partly Xion's fault because she
asked him to do that
. Roxas getting captured or worse could also have been easily prevented if Riku (and even Mickey) would have decided to lend a hand.
DiZ was a revenge-blinded jerkass at that time, something Riku recognized and despised, so his explanations have to be taken with a very big grain of salt.
Yeah, because afterwards, Roxas realized what Ansem the Wise also realized and explained to Riku at the end of DDD. When Sora explains about that he deserves to have his own existence, Roxas gets the confirmation that Sora really has the potential to revive those who lost their existence.
Riku's main motivation was to see Sora restored no matter what, a big part of this also being his determination to make up the crap he did to Sora during KH 1 while Naminé was mainly concerned with repairing the mess she herself created, which made the erasure of Roxas neccessary in the first place. Had Naminé not messed with Sora's memories none of those would have even been in Roxas, so they could have co-existed just fine (in this case however disregarding what this would have meant for Ven).
Indeed, I recall Naminé in Days even making a remark to Riku about how impressed she is with Roxas and Xion fighting so diligently to be their own individuals, which made the whole issue even harder for her. Naminé already felt so much guilt over what she did to Sora in CoM, and to remedy that she had to create more suffering in turn, which her data-self in Coded points out as well. In this light, I guess it is somewhat lucky that Naminé didn't knew that Roxas and Xion had grown their own hearts, making them effectively people in their own right.
Due to both Riku and Naminé being main characters as well, it is of course designed to a degree that they are more sympathetic.
Naminé's actions can be interpreted differently, as it was after all her who brainwashed Roxas in order to keep him from rebelling or running away and lied to him about not disappearing when that was in fact what happened, but I do believe her actions and attitude are meant more from a more sympathetic side. Riku has two or three lines throughout Days and KH 2 which imply that he at least feels pity towards Roxas, and I think we don't need to discuss DiZ, his apology at the end of KH 2 and him now providing the data to make amends (and his speech in Blank Points) show enough about his attitude back then.
It is interesting though also on another layer when looking at Riku and Axel, both wanted their best friend back but could only do so in expense of the other. It would surely have been interesting to see a Riku vs Axel over this issue, lol.
As for Xion considering Roxas' wishes I dunno, I don't remember her ever even asking as she was always concerned with her own problems and kept him in the dark about everything.
Aqua-Ventus being better than Riku-Kairi is not a big deal though, as the relationship between Kairi and
anyone
besides Sora lacks decisively.
For that, I need to re-read the whole thing first. ;P
@AdrianXXII - And all of that is why I feel she's likely to "pull an Eraqus" at some point in KH3, most likely blaming herself for not being aggressive enough against Darkness in BBS, believing if she was then MX may not have had his way with her friends.

That, and she may subconsciously want revenge on MX and his legacy (mostly associated with Darkness) for everything that's happened, although she may not realize it until the end.

Surprisingly similar to Godot from Ace Attorney, actually.
There we go again. <__<
I'm not trying to sound rude or anything, but I have to admit that in all honesty your constant preaching about Aqua becoming a villain at every slightest opportunity is slowly starting to get on my nerves.
Notwithstanding that this also hasn't anything to do with the topic at hand.
Eraqus terrably overreacts once and regrets it almost immediately afterwards and now there's already a "pull and Eraques"...

I can't see Aqua hating the darkness she spent 11 years in darkness, she kinda had to except it's existance. If anything I can see her fall into a deep depression... she already almost did at the end of BBS.
It's nothing new from that front.
This, and Aqua isn't stupid, she's portrayed as one of the most clever and level-headed characters out of the main trios. It has been discussed to death already that Aqua going nuts and starting a rampage would be terribly out of character for her, so I won't open that barrel again, as this also
isn't the topic
!
Monster-post is monstrous...