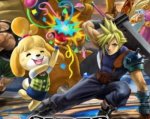 Joined

Feb 15, 2012
Messages

4,550
Awards

2
Location
Re: September 28th - Kingdom Hearts Union ? ENG Update
I mean, they're Dream Eaters. Of course they're cutesy ugly.

Ok, jokes aside (note: not entirely a joke, but it's whatever) yeah, I'm glad they give you the option to mix parts, but... the moment you do it you'll immediately think "oh ok so it's not actually a choice, I'm stuck with either the cat or either the dog."
Or you're getting a FMA chimera that would make Tucker proud.
Man, I so don't like Dream Eaters, lol. At least I took inspiration from Team Four Star and took revenge with the name.
Me and Mr. Stake will be the best around.

I want the dragon too! Or the Keeba Tiger as well. I hope they do them.
Yeah these seem to be new Dream Eaters since they have breed names and everything, so I'm not sure we will get any from DDD, but we may get the same kind of species hopefully at least.
I guess I am part of the problem because I find my derpy little puppy to be adorable lol. Like I was d'awwing just watching it run awkwardly behind me.
I dunno, the only thing I don't like about Dream Eaters is the Osaka team totally snubbed really obvious non-DE party members. It was like "Oh look, Neku/Quorra/Musketeer Mickey is running off in the same direction as us as enemies spawn, clearly we will fight to- oh, wait, they just disappeared conveniently till the next cutscene." And I think we all know how sad it was we didn't get Frollo or CLU fights...but also even a proper story Monstro fight was well. Just so we could fight a slightly different boss we already fought lol.
But that issue isn't really relevant here, since we were totally never gonna get Disney/FF/TWEWY party members anyway.
Certainly some very welcome changes in this update. And I actually like my little dog pet. I named her 'Ballata' after a Medieval music form, following the same theme as my character's name. And she allows me to do a triple Sephiroth EX setup in Coliseum (HD Xion - EX Sephiroth - Key Art "Sky") It's amazing. I'm well into the 800s rounds now.

The problem is with the jewel update is... Look at our jewel quests. Really I hate to bring negativity from a good update, but the fact of the matter is that it's still not good. The amount of jewels from the jewel quests have been drastically decreased. So really, it feels like the increase in daily jewels is at the expense of the amount of jewels we get in jewel quests. In essence, they're going to kind of even out. Meaning, we're still getting snubbed big time compared to JP, it just looks better. Nice PR move, SENA, but I see right through it. Increase the jewel quests back, and then we'll talk about how great this is.
I am still hoping it has more to do with the gem quests and such, as opposed to actually just being changed forever. Because yes, I am currently pleased our log-in bonuses are equal now, it would eventually even out if our quests are suddenly worse instead.