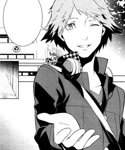 Joined

Jan 13, 2010
Messages

3,758
Awards

1
This is a theory.
I feel like making a claim on it. In the "Secret Episode" you control the character through an actual map. Nomura has said the following about the Secret Episode:
NOMURA: In the 'Secret Episode', you'll be able to virtually move as the character. I think it'll be a pleasant differance rather than just watching the scene.
NOMURA: Since the new 'Secret Episode' is being included, those fans who pay close attention to the mysteries of the story will want to play it by all means.
Typical hype-machine right? Well, consider this, at the beginning of this interview, Nomura makes this somewhat supsicious claim:
NOMURA: The events written in the Ansem Reports took place between Birth by Sleep and Kingdom Hearts.
Why bring this up if it didn't relate to the interview at hand? It's my theory (which probably isn't original, but, whatever) that the Secret Episode will detail Apprentice Xehanort's time with Ansem. Nomura has said this in the past about the potential of a game focusing on the time between BBS and KH1:
—You can't tell us you're not going to make the story between "Birth By Sleep" and "KHI" in some form!
NOMURA: I think you can more or less predict what happens in between 'Birth by Sleep' and 'KHI' now. However, this time you could probably imagine what would happen to Terra in the end, but I think when you personally experience it in the game, it can still make you feel something. Even when you know about something, I think there's significance in depicting it, so that may also be made clear at some point.
The Secret Episode focusing on this time would accomplish several things:
1 - It would explore an area of the series timeline that fans are heavily interested in (as Nomura mentioned above, fans who care about the story's mysteries wouldn't want to miss the Secret Episode)
2 - It would depict this moment in history, which Nomura thinks there is significance in.
3 - Nomura said it might be made clear at some point, this would be that point.
4 - It would do all three of these things
without the need of making an entirely new game for it
Ergo, I'm convinced the Secret Episode will be about this moment in time, and anything less will severely disappoint me.
Thoughts on the Secret Episode yourself?
(interview translation by HeartStation)