Please note: this article contains spoilers from a previously unknown area in Kingdom Hearts III.
The Kaaboo Music Festival in Del Mar seems to have dropped an olympic surprise appearance from Kingdom Hearts III.
Kaaboo, which takes place in San Diego from September 14-16th 2018, is a festival which boasts an adult escape, uniquely curated to appeal to all five of your senses, with world-class music, hilarious comedy, incredible cuisine, craft libations, inspiring contemporary art, and personal indulgences. It doesn't really seem like a place where Kingdom Hearts III would be available at, however according to an Instagram story by rod83092 it seems that fans are getting their first glimpse at a new area of Olympus.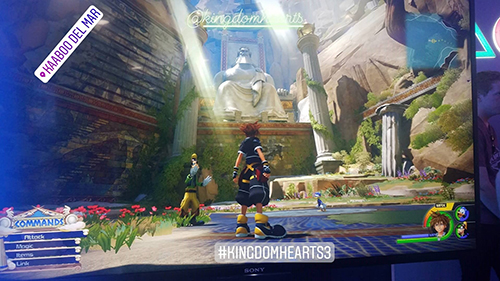 Playstation brought this demo to promote the game as part of their Road to Greatness tour, which showcases new and upcoming titles. This location is found in an extended version of the Olympus demo, so it's very exciting to see more locations from the game prior to the games English launch on January 29th 2019.
According to rod83092, the demo starts in the city, which he believes to be Athens. Sora heads into the mountains, passing through various environments such as those seen in the E3 2015 trailer. The objective is to reach the summit, where Sora then does battle with the Rock Titan.
Follow Kingdom Hearts Insider on Facebook and Twitter for the latest updates on Kingdom Hearts Union χ [Cross], Kingdom Hearts 3 and all things Kingdom Hearts!