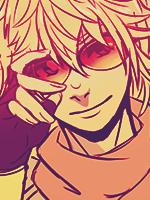 Joined

Mar 31, 2008
Messages

12,509
Age

27
Location
We've seen this a lot.Hell, I know I've seen it to every rp I've been apart of. It either is caused by loss of interest, not enough people, not enough characters, people losing track after speed-posting, and flat out a dead-end, pointless idea to begin with.

Whichever it is, what has been the most for you? Was it the lack of interest? Not enough people? Not enough characters? People losing track? Or just a dead-end completely?

For me, it's always been a combo of all of the things I just listed. On one occasion, it was loss of interest, and people just posting, or wanting to post. It's frustrating, but that's how rps end up on ending...and not in the good way, obviously.

I would obviously love to change the outcome every time, but the pure fact of it all is that you can't change it. Just gotta work with what you got or try something else.