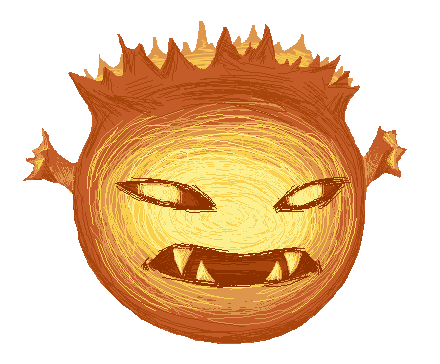 Joined

Apr 13, 2007
Messages

2,842
Awards

1
Age

29
Location
Website
That's right folks. The RPG Inferno is baaaaack.
Round of applause.
Good Space Monkies.
Now sit.
Good.
All of our more dedicated players remember the old inferno being reset, with the promise of a newer and better version to be released. Well it's been awhile, but we finally have a semi-working version together, able to be played by the public. It's not 100%, as there are alot of features we are currently unable to make use of. These things include a weapon and elemental system that would allow you to inflict more damage on an opponent based on their specific weaknesses. ( Example would be using a Slashing Weapon against an opponent wearing armour that's less effective against slashing weapons. ) So think of this version as a simple beta, as it were. We don't want to have you guys waiting forever for the full version.
Now, for those of you who've had not experienced the old Inferno version, I'll fill you in. The RPG Inferno is an RPG built right into the KHI forums. It's a bit on the MMO setup, allowing you to battle, trade with, party with and generally interact with other real players.
In the Inferno, you are a part of a crack mercenary squadron, onboard The Insider. Together with your fellow mercenary comrades, you will take up missions for whoever pays the most. You may find yourself helping a caravan safely cross the desert. You can also find yourself lining up your sights on a rather well-priced mark, who had managed to enrage the local mafia.
Along the way you'll encounter both original characters created specifically for this unique world, as well as Final Fantasy and ( it's younger off-shot ) Kingdom Hearts characters. This is a project that has been made with a great deal of blood, sweat and tears by the RPG Team.
Now my space monkies? You get all that? I sure hope so.
I'm one to allow my work to do the talking, so I'll let you discover the rest. To jump into the RPG Inferno, simply look up above. Up where the User CP is, look for RPG. Now click that, create your character and jump into the tutorial, which will teach you about all the basics of the game.
As I know all you Space Monkies worship the very ground I walk on, I expect to see many new faces. Don't disapoint your beloved Ð now. <3