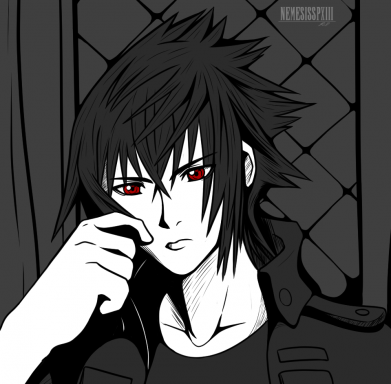 Joined

Jul 14, 2018
Messages

132
Awards

2
Sorry, I couldn't really help myself. This is a thoughts and opinions piece. First one I think I've done directly for KH and this hopefully won't be the last.
I will label these spoilers just in case. It might not seem necessary, but it is a new take on a conversation, after all. I also want to pre-empt this by reminding everyone (
puns suck)
that Tomoco Kanemaki is a frequent collaborator of Nomura's in much the same way that Kazuhigue Nojima and Daisuke Watanabe are, so it's very likely he did tell her in some way what he had planned for these characters. With that out of the way...
Anyway, I just got done reading the two pivotal scenes that I desperately wanted to in the final KH3 novel, "Remind Me Again". On the whole the KH3 novelization is a bit more of a copy and paste translation of the action of the game to the page, with the English translations even being word for word the same. Which it does still do some things different, but it also exasperates the problems concerning Frozen's story in KH3, but that's not what this is.

No, as the title of this thread suggests, this is all about the scene with the Nameless Star and Yozora. And I have to start off ny saying that the former's scene is filled with some of the most interesting adaptation choices in the novels. In the scene, it doesn't just adapt both the Star's and Namine's conversation, it adapts various different conversations from the game and actually has Sora react to them. It's nothing mind blowing, but it was an interesting choice regardless, because it managed to capture that eerie feeling in the same way that the game did, but did it in a way that makes sense in text form. So good was it, in fact, that Stranded Beyond immediately came to my head without me even realizing it for a moment.

But it was the Nameless Star's conversation that yielded the most intrigue. These two quotes in particular.

"Her strong conviction reminded Sora of someone... but who? Who did she remind [him] of?"
"She really doesn't give up- it's a lot like Aqua. But there's someone else she makes me think of more..."

I find these thoughts from Sora interesting. It's another piece of a puzzle in a lot of ways. She reminds Sora of someone and his thoughts go to Aqua, but then seems to believe that doesn't quite fit exactly. I looked to see if Kairi was who she reminded him, but he didn't seem to, so it seems Sora might have a deeper connection to the Nameless Star than he realizes though that's not too surprising. Over all, it does lend even more credence (as if we needed it), that this is meant to be Stella Nox Fleuret, or at least a facsimile of her. As I've often pointed out in other places, she shares much of the same mannerisms that we saw on display in the prototype Noctis/Stella meeting scene. What's more, much of Stella does seem to bring to mind Aqua's character when Nomura talks about her, or rather, in how Stella is much like a foil to Aqua (and Lightning, but a discussion for another time).

To paraphrase Nomura, he described Stella in this way. "Stella doesn't really take things seriously and will learn that the world isn't quite what she'd like it to be." This and Sora's comparison to Aqua is an interesting one. We all know that Aqua had a different role than most of the heroines of KH, this was even remarked on by Nomura when he mentioned he wasn't sure she'd be well liked. And in Aqua's story, we see her actually not only being the opposite of Stella as Nomura described her, but still finding out that the world isn't what she initially believed (or liked) it to be. And Nomura also stated he intended Stella to "stand out" from other Final Fantasy heroines. This is, thus, not a coincidence that he and Kanemaki introduced these parallels into Sora's thoughts on the Star.

Also, I got to mention, but thanks to the leaked storyboards, there is no way that Stella was actually a ghost like a lot of people believe from one of those questionable leaks. It's just more likely that Stella was like Aqua, except Noctis was chasing her, rather than Aqua chasing Terra (and Ven). Stella and Aqua are intended to be opposites in this way. But there's absolutely no proof that she was dead in Versus XIII.

Or I could be reading too much into it. We can't really tell at this point until we see more of the Nameless Star.

Anyway, onto the last one and it's something of an interesting execution of the Secret Episode. I don't think it's that hard to assume we all knew this was going to be included. It was the title of the book, after all and thus Yozora had to make an actual appearance. But, instead of an epic adaptation of the fight in a book form, the encounter ends... in kind of an amalgamated form.

Sora loses and becomes crystal, but it still ends like the true ending of the Secret Episode. With Yozora's driver asking him if it's "Impressive". Yozora and Sora speak the famous "I've been having these weird thoughts lately" and then Yozora actually notes afterwards his confusion on if it was his voice or Sora's voice. This interests me because it seems to continue a thought I've had that I know a lot of other people have had as well.

And that's the "Did the Secret Episode Actually Happen" theory. Something that, do to varying factors, seems very likely to be true. To wit, the Secret Episode initially takes place in a world where you can cross over in your dreams, something we see both Sora and Yozora doing in the game. Obviously, the secret episode did happen, so it's sort of a misnomer, but more it's more about which of the two outcomes is the "actual event" as depicted within Yozora's dream. Either way, we know the true ending is Sora winning, so it's not as if we don't know what the canon outcome is. It's just interesting that this is how Kanemaki decided to end the story.

It calls to mind, again, how Noctis was supposed to travel into a dream world. I know this is been beaten to death, but I just wanted to express some thoughts on this novelization's handling of these two scenes. I look forward to seeing how the manga will handle them, when it gets to them.
Let me know your thoughts, definitely interested to hear them. Even if you think I'm just reading too much into this.
Last edited: