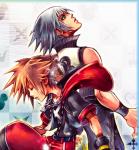 ~(x)~Sword Art Online~(x)~
Joined

Feb 14, 2009
Messages

3,365
Awards

0
Location
In my opinion Psyren is an awesome manga...
Here a little summary about Psyren:
Yoshina Ageha is a high school student who offers to help people with their problems for 10,000 yen. He'll take care of your stalkers, find your lost animal, whatever you want. One day when he's heading home, a nearby pay phone rings, and he picks it up. The only thing he hears however is his own voice echoing. After finding a mysterious card with the word 'Psyren' printed on it, which incidently is the name of a rumored cult responsible for a great number of obductions all over Japan. After some further investigations(don't want to spoil) and a short period of time he hears a ringing in his own head, it grows stronger til hes about to collapse. In desperation he picks up his cellphone and answers it in hope itll stop the ringing. When he comes to hes been teleported to another place (again lets call it another place so that I dont spoil too much), and finds out he and a group of others have been sent to the other place to play a "game" with their own lifes on the line. A game that turns out to be very much to their disadvantage.
Thats the starting premesis in a nut shell. Who hes playing against, where the game takes place, how hes supposed to win and the point of it all is very interesting indeed. More bits of the truth is explained little by little as the series progress. Basically its a story about a group of people that sets out to save the world.
So anyone here knows about this manga?
I have read all the 140 chapters up until now and it's still going on.
I've seen many people waiting for it to become an anime but no confirmation until now.