Joined

Jan 18, 2019
Messages

18
Awards

0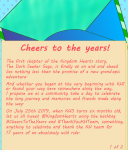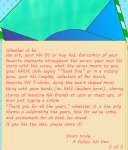 PLEASE REBLOG, REPOST AND SHARE IF YOU LIKE THE IDEA!!
I've been posting this everywhere I can for a the last week or two and people have been pretty on board.
I created a tumblr for the idea too if anyone wants to go reblog this from there.
Its, 'ThankYouKHTeam'
This also isnt the only one I've made. In trying to keep the idea fresh in the tags and peoples feeds, I'm making varriations of the envelopes with different themes.
This one is Destiny Trio themed, and I'm gonna try to make a new one every week til the day of to help remind people.
Again please share if you like the idea, even if you dont want to participate but like the idea please share. I think it would be so fun to have a sort of KH Community day on twitter.