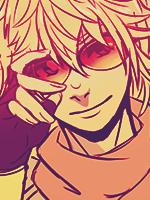 Joined

Mar 31, 2008
Messages

12,509
Age

27
Location
This was a thought I just had.

Has your preference for detail and length changed since you started rping?
How does it compare to when you first started to the very present?
Do you feel this effects the way you look at other rps?

I feel that my preference has drastically changed since I started rping. This is fact, not just opinion. When I first started back in 2008, I would be the guy who would join the rps that had a more casual look. I remember being intimidated by the rps that had a long introduction to not only the plot, but the information regarding groups within the plot. However, now I only join the rps I know where respected rpers will be or rps that have a good detail.

As for the length part, I feel that from when I first started rping, I would be able to deal with one-liners or even the poorly-constructed paragraphs. However, I feel that if a post doesn't contain two paragraphs, it isn't worth my time of day. I can even go as far as to say that my posts always are three paragraphs. When I compare that to my first couple dozen of posts when I first started, that would be a good day, now it's a bad day if I only can do two paragraph posts.
Last edited: