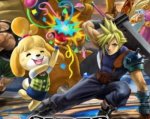 Joined

Feb 15, 2012
Messages

4,550
Awards

2
Location
Re: Pokemon | Let's Go Pikachu!
The more I look at it the more it looks like a port. It looks exactly like SM but with better graphics. Let's Go looked completely different and was on the Switch.

A while ago we learned that GF struggled to make Let's Go and that game was so simple in design and content. It shows that they're not taking risks.
It is strange in the context that they struggled with a simple game like Let's Go. I guess yeah its fairly obvious they aren't taking risks in the games department at least? I feel like they will never mess with the turn based mechanics too much for fear of pissing of the entire competitive base they have built.
I will say, I preferred Sun and Moon's artstyle over Let's Go for sure, so I am not actually upset they went back to it and tried to make it look as good as it supposedly did before the 3DS downscaled everything lol. But they do seem to be coming at this as a fancy handheld first, and not necessarily a console? That's the impression I get.
I'm such a stupid sucker for these cute Pokemon and trainer designs and I think a lot of the areas looked really pretty so I am all in. But I understand the complaint. I do sorta wish you could at least pick your path a little more or something. The routes seem to be more sprawling/open at least?