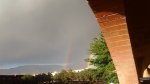 Joined

Nov 2, 2011
Messages

5,451
Age

26
Location
Website
Pokemon Mystery Dungeon

Chapter 0

~Gengar's Origin~​
It had all started out on that cold, desolate night. A young, amethyst-haired boy traveled alongside his lovely Pokemon known as Guardevoir. The two had been traveling for a long time that both felt the ever looming presence of death encroach upon them. The spiky-haired youth and his Embrace Pokemon came upon a small cave.


"Do you think we should go into it?" the human asked his partner.


The Guardevoir shook her head and moaned a few times. But, the human just cackled at her and went inside the cave. The Embrace Pokemon panicked and chased after her beloved master. Guardevoir called for her master with his name repeated constantly in her head,
"Greggory-sama, where are you?!"
She began to panic and felt her body tense up at the thought of her beloved master freezing to death in some part of this small cave that seemed to have numerous mazes. She heard a scream and nearly fainted, but she gathered up her courage and searched for her dear Greg.


"Guardevoir, help me!" the scream that could be barely heard was recognized by the Embrace Pokemon as her beloved lord.
"I'm coming! Hold on," the green maiden said as she glided throughout the cave.
The screams and shrill terror within Greg's voice kept urging the Guardevoir on. She had to find her purple, spiky-headed youth. He had saved her numerous times, especially when she was just a baby Ralts. Guardevoir could still recall those awful, cruel days. She never wanted to forgive those horrid humans for nearly killing her.


Flashback​


An infant Ralts crawled to the front of an old, brick school building. Nobody knew where the Pokemon came from or even if her trainer or family was out looking for her. The teachers and the staff of the school just left the Feeling Pokemon alone. Of course, the teachers, janitors and other staff of the all-boys academy left the baby some water, berries, apples and sometimes Pokeblock and Poffins.
Ralts didn't know what to think of the humans. She had been told by numerous Pokemon that humans were malicious and couldn't be trusted. Of course, none of the humans seemed to be evil so far and some of them seemed kind of nice with those delicious treats they occasionally put out. She still wasn't sure if she could trust them and so she kept to herself just like the humans kept to themselves. Everybody would stay in their own place and nothing bad would happen, right?
One morning, everything changed. Ralts crawled out from her small crevice in the stone gates of the old schoolhouse. She went to where the humans had set two bowls of food and water for her, but only to find out that some red-orange, striped dog was eating from her bowl. "Hey," she shouted at the dog.
The Growlithe growled at her with his fangs bared. "Get lost, runt! This is my food."
"No, it isn't," the Ralts cried.
"Well, you snooze you lose, sweetheart. I am bigger than you and I was the first to arrive, so therefore it is my food. So, back off!"
Ralts began to sob under her green bowl-cut and red 'horns'. "I have nothing else to eat," the Feeling Pokemon cried as she held her white sleeve-like hands towards her eyes.
The Growlithe kept digging into her food. She watched hungrily and sadly as he did this. "IT'S MY FOOD!" she screeched.
She lifted her head, which revealed to large, red irises. "MY FOOD, HOW DARE YOU TOUCH IT!"
"Hey, what the…" the Growlithe exclaimed as he felt himself hovering in mid-air. He looked at the tiny Pokemon and cried to her as he was very high up in the sky. "Put me down!"
The Ralts chuckled and muttered to the Puppy Pokemon, "I'll put you down, but it won't be anywhere near my food."
The Growlithe was sent soaring far off into the turquoise mountains that overlooked the small school building. Ralts went to her dish and dug in what remained of it with her small, white hands. She did the same with her water. Ralts was unaware that a couple of boys headed towards the schoolhouse for another day of lessons. However, the lessons that the boys brought with them were nothing, but trouble.
~~~
"Hey Growlithe, is that the runt that caused you to get scratched like that?" a loud, obnoxious voice asked.
"Growlithe!" the striped dog nodded.
Ralts looked up from her food dish. Her eyes nearly widened once she saw that trouble-making hog again. He snickered at her before putting on some sort of act that made the four boys behind him get mad. "So, that's the pipsqueak that hurt my beloved Lonnie."
"C'mon Jace, shouldn't we just leave it alone? I mean, Lonnie has been known to cause mischief in the past. He did steal Ms.-"
"Shut up! Nobody hurts my innocent Lonnie."
The human boys began to pick up a bunch of rocks. Ralts could sense their enraged feelings through her red horns. She was scared and sent the rocks back at the boys with confusion. This only seemed to cause the Feeling Pokemon more agony as the boys' already angst emotions nearly tripled. She wanted to flee, but she didn't know teleport. Ralts felt more rocks hit her as her confusion couldn't catch all of them.
One of the boys approached her and attempted to kick her. Ralts saw that a boy rush to her aid. He cradled her in his arms and held her against his chest. "Hey guys, I think that's enough! Shouldn't you be headed to class?!"
"Get out of the way, Greg!"
"Do you want to get kicked?"
"Guys, you're really pathetic, especially you, Jace," said the voice of Ralts's savior.
The Feeling Pokemon looked up and saw her hero's face. He was a boy around eight-years-old with dark purple, spiky hair. The boy had large, rounded eyes that held a mischievous and somewhat kind, red irises to them.
"You can't defend that thing after it hurt my Lonnie!"
"Jace, why don't you and your friends get lost or else I'll tell on you," Greg said.
The boys' eyes widened and they fled to class after they tried to call Greg's bluff. Greg giggled as they fled like a bunch of Bug Pokemon. Greg set the Ralts down
. "Y'know, you shouldn't be out here. Jace and his thugs will be back any time after class. I might not be here to save you next time. Do you have anywhere to go?" Greg asked the Feeling Pokemon as she stood next to her food and water bowls.
The Ralts shook her small head.
Greg laughed, "I guess, I can take you in. I mean, after all I want to become a Pokemon Master one of these days. Do you want to join me?"
Ralts nodded and Greg pulled out a red and white ball from his beige backpack. He pressed the middle of the small, marble-sized ball and it became bigger.
"C'mon, get inside!" Greg said to the Ralts in the nicest voice he could muster.
Ralts was unsure of what to make of this device. She didn't want those mean boys and that dumb mutt to come back to continue their harassment of her. The Ralts nodded and touched the ball. She was immediately absorbed into it while Greg waited till the Pokeball clicked from the outside, which it did. He tapped the middle of the Pokeball, it shrank and he placed it into his beige backpack. "I'll protect you, Ralts. I promise."
End of Flashback​
Guardevoir stopped at a dead-end of the cave. She looked around, sure that this was where Gregory's voice came from. Guardevoir was bewildered now as her master wasn't there. She called his name with her telekinesis. But, nothing came back. She began to panic worst than before. Then, a loud screech echoed behind her.
"Gotcha," Gregory said as he jumped behind the petrified Embrace Pokemon. Guardevoir was mad now. How could her master trick her like this? The big meanie, but then she couldn't expect anything else from the human. After all, he was a class A prankster both at school, at home and even on their journey.
"Guardevoir, I think this is a good enough spot to lie down," Gregory said to his Pokemon as he began unpacking his sleeping bag along with another for his partner.
Guardevoir felt uneasy being in this cave. She felt like they were invading somebody's space. Somebody that seemed to be very powerful. Guardevoir tried shaking her partner's arms or nudging him to leave, but he just laughed. "Guardevoir, it's okay! There is no need to be scared. Greg the Mighty will protect you."
Guardevoir just grudgingly shrugged the ominous fear she felt. She trusted her partner. He always protected her, especially from those horrid boys. Guardevoir cuddled close to her partner as he watched him slowly drift off to sleep.
~~~
"How dare you tread upon my terrain?" an ominous voice declared in the sheer darkness of the cave. Guardevoir opened up her large, red eyes. She looked around as she slowly lifted her head from her trainer's torso. A pair of crimson eyes glared at her in the distance. Guardevoir felt tense and looked down at her trainer. He was still asleep.
The pair of blood-red eyes approached them and a snarl let out, which followed with an ominous voice, "None shall trespass!"
Guardevoir shook her partner frantically, but Greg wouldn't wake up. The snarling and the voice grew louder along with nine, small flames The will o'wisps or ghostly fire was just a glimmer at first along with the crimson, sinister eyes. But, now they seemed to be right in front of the Pokemon and her sleeping master. The Embrace Pokemon panicked and stood in front of her human parent with her long arms stretched out, "Please, don't hurt us!"
The mysterious canine was right in front of the green maiden now. The eerie, orange flames flickered and cackled as the canine glanced behind the Embrace Pokemon. "That human has dared to violate me by touching one of my sacred nine tails!" the canine spoke with her sharp canines exposed.
Guardevoir studied the flames and the features of the canine. She recognized the canine and instantly froze, "Ninetails…!" she stuttered.
The canine nodded and growled, "Yes, I am the legendary Fox Pokemon. I was created when nine wizards combined themselves together to fight off a great evil. I am also the one that has been violated by that human behind you." The white fox bared her sharp canines once more and her nine tails were all exposed.
Guardevoir glared at the fox and held her arms out before the savage canine. "Greggy would never do such a thing like that."
"Oh," the Ninetails spoke. "How can you be sure?"
"Because…" Guardevoir said as memories began flooding through her mind. "...he saved me!"
"Very well then, I shall test him to see if he as truthful as you make him out to be."
~~~
Greg opened his eyes. He heard a loud shriek before him.
"GUARDEVOIR!" the amethyst-haired trainer shouted.
The Embrace Pokemon endured the savage curse that the Ninetails placed on her. She smiled at her trainer. The ominous voice of the golden-white fox interrupted the emotional moment between both human and Pokemon, "Do you wish to save your partner, human?"
Gregory had already fled the cave. He kept running and running into the freezing, cold blizzard that ravaged the landscape outside. Tears welled up in his eyes at the thought of his betrayed partner. He felt sorry and wanted to turn back, but Greg had to survive. Run and run was all that he could do. The curse of the Ninetails echoed through his mind, "The human shall be reborn as Pokémon!"
Greg felt his body become heavy. It became almost impossible for him to run anymore. He was fatigued by what happened to his partner and the strenous running that he placed his fragile body under. It was catching up to him and Greg suddenly collapsed.
"GUARDEVOIR...I'M...SORRY…" Greg thought before his mind went blank and his corpse fell victim to the cold.
Last edited: