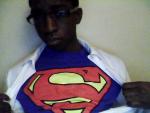 The End Boss of KHInsider
Joined

Jun 27, 2008
Messages

3,165
Awards

0
Age

26
Location
I have two video game related articles, very hilarious.
#1:
Neighbor calls the SWAT team on two guys playing PS3 - PlayStation 3 News - QJ.NET
Thinking it was the sound of actual gunfire, a concerned neighbor in an apartment in Copenhagen calls the police to sort it all out. Now this isn't your regular patrol man lazily knocking on the door clutching a doughnut on one hand - they sent the SWAT team who called the guys out on the street with a megaphone.

As it turns out, it's just two guys enjoying their PlayStation 3 on a flat screen and speakers on full volume.

Now they didn't mention what exactly it was that they were playing, but we know for sure that these guys, a 21-year old and a friend, were even arrested with the suspicion of shooting - all because their home entertainment has phenomenal sound quality. Their apartment was searched, but no firearms were found, so they were released later. How's that for sound quality?
#2:
Halo 3 gamer who shot his parents now convicted of aggravated murder, may get life sentence in prison - PS3 News, Wii News, Xbox 360 News, PSP News and more!
Remember last month when it was reported that a 16-year-old kid shot his parents because they took away his Halo 3? Here's a follow-up to that.

For one, the kid is now already 17, just so you know. In 2007, Daniel Petric shot his parents in cold blood for keeping his copy of Halo 3 away from him. This resulted in his mother's death, while the father eventually recovered. Petric finally had his hearing last month, and just today, the judge has convicted him of his crimes.

No sentence was passed on Petric just yet (that will come at a later date), however, he is facing the maximum possible penalty of life sentence in prison without parole.

Though his defense attorneys attributed his crimes to his video game addiction (which, in their argument, made him less responsible), the Judge overruled this, and pointed to evidence saying that he actually plotted the act.

According to the report from the Associated Press, one of the prosecutors:

described Petric as a cold, calculating killer who plotted to murder his parents, Mark and Susan Petric, and make it appear to be a murder-suicide by putting the gun in his father's hand.​

Meanwhile, it was also revealed that when Petric left the crime scene, there was only one thing which he took with him: his copy of the Halo 3 game.

Based on the Judge's ruling, Petric is now guilty of aggravated murder in the death of his mom, and the attempted aggravated murder in the assault on his dad. On top of that, Petric was also convicted of tampering with evidence.