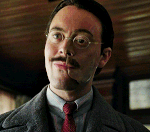 Joined

Jun 12, 2006
Messages

4,337
Awards

3
Age

30
Location
Fanfic in the beginining stages. (though its more like a seperate story in itself.) Hope you like it.
Chapter One : The Awakening
Blurred vision met creamy white walls as he awoke groggily in the bed, fighting for breath.
Rain..cloaked figure..brown haired man..erggh..
Fenrir Twizen looked around the white room, as if it was some toture chamber, and he was next in line to die. Slumping back down onto the pillow, his black, blue-highlighted tipped hair hit the pillows, sending him to sleep in an instant.
Fenrir stood in the pouring rain, next to the brown haired man. A cloaked figure stood in the distance, apparently waiting on them to make the first move. The brown haired man ran in front of Fenrir, blade raised, and he lunged at the cloaked man. The ominous figure merely held out his left hand, and flames incinerated the brown haired man, leaving little but bones and ashes in the cobblestone street. The cloaked man nodded towards Fenrir, in a friendly sort of gesture-Fenrir thought otherwise. The Figure walked up next to Fenrir, disappearing into darkness as he said the only sentence to be heard..
"Until we meet again, Other."
Fenrir awoke with a start.
The same dream..impossible..
He looked about his perimeter; Nothing but the same creamy white walls, with bright sunlight shining behind he milk-white curtains. Fenrir got up, opened the door to the room, and walked home.
_________________
The Wolfen Tower never seemed like much, but it was home to him. With its neverending carvings and scupltures, all of grey wolves with artic blue eyes, even busts o'er the doorways, he seemed not to care. The castle the Tower was within was larger, and yet they were, Castle and Tower, both made of the same grey brick. Fenrir just walked up to his room, after climbing several flight of stairs, and sat down at his desk after closing the door. He then sat down at his desk, and started reading some old tome he had found earlier that day before...before he..
"
Wake up Fenrir
." The malevolent crystal blue eyes flared from beneath the cloaked figure's hood. "
Perhaps if you didn't sleep all the time, perhaps I wouldn't be here to give you sleep problems
." "
Even though it is quite fun
." a grin escaped the strange cloaked figure's lips, and he gave a different reply to his leaving:
"Until I awaken, Other. Only then will I have a place in this universe."
Fenrir's eyes, sapphire blue, exactly like the cloaked man's flew open. He got up, and took a relaxing shower, the steamy water cascading onto his tired body like relief after a month-old migraine. Drying himself, he went to his closet and looked through his wardrobe.
Ten minutes later, he was ready to go to see his friends, and perhaps figure something out with his dreams. Sporting a black shirt with a silver sapphire eyed wolf in its center, a long black coat, reaching down to the top of his ankles, black leather gloves, black baggy jeans, held to his tall, skinny-ish, frame by a black leather belt, a silver wolf with sapphire eyes its buckle. His shoes were plain black, but made for the harsh winter around his home. He walked downstairs and went out the ground door of the tower, hoping to get together with his friends Chic, Viktor, and Hazel.
He recalled his friends as he walked out to his car. Chic was usually the cool-kept guy; Viktor was usually the same; But Chic always had this tendency to get into spots of trouble..which Viktor, Hazel, and Fenrir often had to keep him out of; Viktor was always the strong, silent type. Most of Fenrir's friends were like that, other than the girls he knew, including Hazel. Then again Hazel was always in his thoughts, seeing as how they were dating, and had been for about a month.
Same with school; It was going to be his Second Year at the Fallidan Academy, the first for Hazel, Viktor, and Chic, and practically everyone else Fenrir knew. He kept on driving, the cobblestone street keeping some traction to his car's tires. The blizzard last night was the usual; they came yearly, everyone in Metro City was used to it by now.
Metro City sure was an old place, he thought as he was driving, only a block away from their meeting place, a restaurant called the Kooler, for the habit of the restaurant's heating being cut off due to upaid gas bills. That never stopped customers from coming; alot of them pitched together and added several fireplaces to the Kooler, and even donated wood and candles, and matches, to keep the restaurant warm and cozy.
He spotted Hazel's blonde hair, hazel eyes on the curb. She was flagging him down. He pulled up and opened the door for her to get in the passenger seat, and got back in the car. Moments later Chic and Viktor came running up behind the car, nearly getting hit as they got in. Fenrir turned and looked at the two 15 year olds, their faces red from running. "What took you long?" he asked, grinning. "Got stuck behind this crowd of people watching some fire magician." Viktor replied, his deep blue complexion and blonde hair looking mournfully at Fenrir. "Sorry we nearly got left behind." Chico said, his brown hair and green eyes just as sad.
Fenrir hated when they did this. They just wanted to seem innocent; all they had done was gotten a little sidetracked, that was all. Besides, that fire magician had started getting larger and larger crowds these days..
Fenrir just started driving them off to the Kooler, and was nearly there when they saw a sign on their right:
"The Kooler has been shut down for maintenence. We are going to fix the problem."
- The Republic Branch of City Work.
Fenrir's eyes blazed with small anger. The Republic of the City-State of Metro was always abusing its power, but never like this. He ignored it for now, and drove to the gang's second favourite hangout spot. The Decker Restaurant was named thus for its regular triple decker burgers, even though it included other foods. Fenrir just bought the four sodas and pizza, knowing they could chow it down completely.
Setting everything down on the table, the four friends ate the cheesy pepperoni pizza and talked of what it would be like at the Fallidian Academy this year, being everyone but Fenrir's first year there. Soon the pizza was gone, and the endless chatter continued. This was the life.
Some hours later, after driving Viktor and Chic home, Fenrir came into Hazel's driveway. "Your stop." he said, grinning. She brought him next to her, and they exchanged a moist kiss on the lips. "See you tommorrow at the Academy." Hazel whispered into his ear, after Fenrir had walked her to the front door of her parents' home. Fenrir felt..well, downright cheerful. He whispered her goodbye even as Hazel did, and drove back home, checking the car's clock.
Midnight..good thing dad's with mom on vacation, otherwise...
Fenrir knew what could happen, but that was the heyday of life.
He got out of his car, locked it, and went inside his home, as old as the city, and even older, if you believed the myths of Castle Wolven. Locking the front door behind him, he went up to his room, and got on his laptop, finishing the report he had to turn in the first day at Fallidan Academy. Done with that, and he removed the sapphire earring in his left earlobe, and the two silver ones oddly put in his right ear.
He hung up his coat, boots, and socks, and lay in bed, thinking of him and Hazel in the upcoming year ahead. Little did he realize that when he fell asleep, his nightmares would, eventually, come true, though that would be a long time off.
CC is good, try it sometime people. Tell me how it was, but don't post your fanfic in here. Makes this look bad, it does.
Last edited: