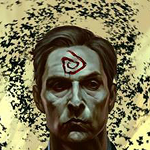 Joined

May 16, 2007
Messages

5,612
Awards

4
Location
Got a veritable smorgasbord of theories for you guys, so I'll try to keep it as short and simple as possible. They're all inter-related, though, so I suppose you could say they're part of one grand theory.
Let's start with Terra's Lingering Spirit. What is it? Let's start with what we know.
In the English release, Xehanort says that it's Terra's mind resisting. And in the Ultimania, the LS is said to be Terra's thoughts gathered into his armor. The two ideas appear to coincide- naturally, thoughts reside in the mind.
But then what exactly is the mind in the KH universe?
We were told that three aspects make up a being- the body, the heart, and the soul. Is this to say that there is a fourth dimension? I wouldn't
quite
say so.
Note what Xehanort says to LS: "Your body submits, your heart succumbs- so why does your mind resist?"
Find anything odd about that? Body, heart- he's two for three. No mention of the soul.
Let's take a look at the term "Lingering Spirit." What imagery does it create, when you think of a lingering spirit? Personally, I thought of a ghost. You know, a lost
soul
. And it's right there- Spirit (while in some religions it is differentiated from the soul) is, in most cases, synonymous with the soul.*
In fact, the mind and soul too are often understood to be one in the same (the mind in Buddhism plays a comparable role to the soul of other religions). So am I saying that the mind
is
the soul? Not exactly.
I've thought it over and believe, instead, that the mind is a part of the soul. Think of it as its center- the place where thoughts are stored. While a soul in the broader sense is nothing more than the battery through which the body functions, the mind within the soul makes it more specialized, a unique aspect of each individual.
This can be more easily understood, I think, when applied to Nobodies. A Nobody is created from the same body and same soul as the original. So what makes them different? Why are they considered to be a different existence than their Somebodies? Because they operate under a new mind. Same body, same soul, and even the same memories (which are transferred from the heart to the new mind). But the mind is unique to each sentient entity, whether they have a heart or they don't.
All of this talk of souls and religious imagery leads into my next theory- the KH equivalent of the afterlife. Sleep. What is it, exactly?
Sleep is, more or less, what you think it is. When a character dies (or what have you), they are put into a state of rest. But
what
is it that sleeps in the case of characters that don't have hearts?
It's the mind. I reached this conclusion out of consideration of the characters who don't have hearts, and yet they are still capable of sleep. Like, for example, Axel. Roxas applies as well. While he has Ven's heart, it would be problematic to say that he rests through Ven's heart when Ven himself rests through his own heart. As I said, there is some essence that differentiates between beings (which is why Roxas can neither be said to be Sora or Ven- he is more than the sum of his parts, he has his own identity), and that something is the mind.
What is this sleep like, though? For starters, it's far from dreamless. Think for a moment about torment and hurt. A person who is asleep ordinarily can't experience emotional duress. The stimulus might be there, but they are not conscious and thus cannot perceive it. However, a dream is regarded as its own state of consciousness, separate from the other stages of sleep. You can definitely feel sadness in a dream.
And that's what we have for those in torment. Their dreams are the equivalent of a kind of purgatory in which they feel the pain of losing themselves (and in which they wait for Sora).
This puts an interesting spin on a couple scenes, namely the BbS secret ending and the Axel/Roxas scene in KH2FM. Perhaps they're not as "symbolic" as we thought. Maybe, they're literal. Those scenes take place within the realm of dreams.
Axel:
So you're finally awake?

Roxas:
Axel

Axel:
No, you might be falling asleep instead
Soon, we won't be able to talk to each other like this any more, consciousness to consciousness
Consciousness to consciousness, mind to mind. The dream is a shared one built on the collective memories of those sleeping. It's Limbo, for Inception nerds.**
This knowledge plays a role in my next theory on the Chamber of Waking and Chamber of Repose. We still hardly know anything about these two.
For starters, we know they're connected. Now, the Chamber of Waking predates the Chamber of Repose, meaning that the connection is not natural. This seems to suggest that Xemnas intentionally built the Chamber of Repose to create a connection. "With the Chamber of Repose comes the Chamber of Waking."
From what we saw of the Chamber of Waking, it doesn't appear to be too extraordinary. It's not as if it was built explicitly for Ven. The only function it has, insofar as we know, is to safeguard the life within, to hide it from the looming darkness. As the antipode of that Chamber, what does the Chamber of Repose do? What's the opposite of hiding? Finding.Through the Chamber of Repose, Xemnas could achieve his goal of finding the Chamber of Waking. But how?
Start with the name. Chamber of Repose. Sleep. Xemnas, no doubt, was not using it to take a snooze, but to go into that special state of sleep. In essence, he was sending his mind to the "afterlife." But what could he gain from that?
Note the aesthetic of the two chambers. They're both covered in chains. What does that bring to mind? Memories. The memories are flowing through the chambers. And they connect. By going to sleep, Xemnas' memories can travel through the realm of dreams and connect to Ven's memories, to Ven's sleeping mind. While Axel and Roxas' minds constructed a dream of the Twilight Town tower, Xemnas and Ven construct a replica of the Land of Departure before it was destroyed. Through this connection, Xemnas was able to pinpoint Ven's location.***
But Xemnas isn't just doing it to find Ven. He's doing it because the part of Terra inside of him misses Ven, and wanted to be with him, if just through a dream. That is to say, Xemnas is far more Terra than he is MX:
I'm not afraid of what the darkness holds now. Even if you do wrestle control of my heart from me. Even if you cast me into the deepest, darkest abyss.. You'll never sway me from the one cause that pushes me to keep on fighting. Whatever the cost, I'm ready to pay it.
In other words, even if Terra were to lose control of his heart, he knew that, in some form, he'd keep fighting. His body and soul, Xemnas, would go on. It's pretty heroic when you think about it- he was willing to pay the ultimate price. To rid his vessel of Xehanort, Terra sacrificed his own heart.
However, without a heart to guide him and having been corrupted in body and soul by Xehanort, he is no longer the kind person Terra once was. He still holds the same goals as Terra did (notice how Terra mentioned he would do whatever it takes to reach his goal in the secret ending- Xemnas too speaks of a higher goal in the Days secret reports). In other words, he still has Terra's goals, but will use means similar to MX's to attain them.
For example, Kingdom Hearts. Having been a part of MX, Terra gained knowledge of the means of reaching Kingdom Hearts. Note how MX talks of creating the "Next World" by opening Kingdom Hearts. So too does Xemnas wish to create a "New World." While their actions might be similar in that respect, their motives are different:
Xemnas said:

I must become one with Kingdom Hearts. I will become a higher existence. All of my true ambitions begin there.
Xemnas naturally knew about becoming something "far greater than human" from MX. But note that, unlike Xehanort's Heartless, he is not doing this for its own sake, for power. Becoming one with Kingdom Hearts isn't his goal, it's a
means
towards his true goal.
What could that be? Let's put everything together.
Xemnas, with Terra's intentions, had the goal of finding Ven.
Xemnas also wanted to use Kingdom Heart's power for a higher purpose.
Perhaps these two goals are one in the same. Terra wouldn't just want to find Ven, but to restore his heart and wake him up. By using Kingdom Heart's power, he could accomplish that. No doubt he'd be able to free Aqua from the Realm of Darkness too.
Unfortunately, as I said, when Terra said he'd reach his goal "whatever the cost," he wasn't kidding. Because Xemnas lacks Terra's moral restraint, he was willing to sacrifice thousands, perhaps millions of people all for the sake of his goal. It's pretty tragic when you think about it, and it goes to show how desperately he wanted it.
That's it, though, right? Goal: not accomplished. Xemnas is gone.
This leads to my next theory- the identity of the Mysterious Figure.
Who do I think it is? Xemnas. Sort of. I know, I know, let me explain.
Let's start with the obvious connections.
I think we all thought of Xemnas when we saw how MF seemed to flash in and out of existence. That clearly was done on purpose. I mean, right down to the stare that
Xemnas
and
MF
give, it screams that they're connected somehow.
Then, of course, the "ethereal blades." Xemnas is the only one in the series to have these weapons. But while MF's are similar, they're not the same. So something must have changed.
What could possibly make a weapon change form, and yet look similar to its original?
Easy. Look at, say, Braig, Dilan, or Lea. When they become Nobodies, their weapons reflect their weapons/items from when they were human.
However, this doesn't apply to MF. Assuming that he is connected to Xehanort, all of the previous incarnations had notably different powers/weapons- except for Xemnas. So maybe it's the other way around. Nobody weapons usually reflect the Somebodies, but for MF, his weapons reflect his time as a Nobody. That is to say, MF is not a Nobody.
So what am I getting at? MF is Xemnas... except now he's complete. Not with his original heart (I believe that Terra/Xehanort's hearts still reside within Riku- the blast in KH2 got rid of the darkness of Xehanort's Heartless, to be sure, but that doesn't mean the hearts are gone too), but with a completely new heart made from nothing.
This, in fact, was the Organization's goal in the first place. They didn't want their old hearts back.
–The initial members of the Organization abandoned their hearts intentionally? Why, now, do they collect hearts?

Nomura: The reason is to have a 'complete existence.' KH1's Ansem (Xehanort, stealing this name) had a purpose, and realizing that he had transcended being a human, turned into a Heartless. Xemnas remembers that purpose, but as a Nobody, 'an empty shell,' collects hearts to become complete. The other members of the Organization have their own expectations, but are there mainly for the purpose of collecting hearts to complete Kingdom Hearts, as only Xemnas stared ahead and made it a priority. It is natural that Nobodies, who do not have hearts, demand hearts, though it may seem that Sora's defeating them is unnecessary, the Organization members don't look for their own hearts, but collect many from unspecified persons, and use them instead, placing the hearts in a situation where they cannot go back to their origin.
Xemnas wanted to be complete in his own right. If he got back his old heart, the Xemnas we know would be gone. Going back to my earlier theory, the mind in his soul would be replaced by a new (or rather old) mind. But by getting a brand new heart, one he could claim as his (and not his somebody's) own, he could continue on as a complete being.
But how?
You'll notice that Xemnas does in fact attempt to merge with KH at the end of KH2- and he seems to succeed.
Hear me, Kingdom Hearts! It seems we must begin anew. Ah, but know
this: I will give to you as many hearts as it takes. Mark my words! You can no
more be complete without me than I without you. Heed me, Kingdom Hearts! Lend
me your power, so that we may be complete! The power to erase the fools that
hinder us.
Now, Xemnas was no more complete after that than before, he still identified himself as a Nobody. It may just be that, without the hearts AtW released, KH's power might not have been enough. Or.. perhaps its powers had yet to take effect.
To become one with KH, MX says, is to be "reborn." And we know that Nobodies are not reborn as their Somebodies until they are defeated (as well as their Heartless).
So, perhaps what remained of Kingdom Hearts, its core, heeded Xemnas' request- but Xemnas needed to first be destroyed in order to be reborn as a complete being. To rise from the ashes.
Again, KH was not powerful enough to, I imagine, recreate Xemnas as something far greater than human. But it still helped Xemnas accomplish the first part of his goal- to become a "higher existence." An existence higher than non-existence is existence itself. He may not transcend humanity, but at least now he is at its level.
Moreover, with what is essentially the core of an artificial Kingdom Hearts as his heart, I imagine he's been endowed with some pretty special abilities. Like... all of those elemental attacks? Yeah, that's no big surprise considering that in the final battles of KH2, Xemnas was capable of replicating the Organization's powers.
What about the time traveling ordeal? Well, in many religions, the deity is said to transcend time, to exist outside of it. In other words, such gods are capable of time travel. Kingdom Hearts, I would imagine, is no different. By absorbing its core, Xemnas acquired this ability. He can open doors to the past. And as we've seen with the one example of time travel in the series, Timeless River, this is highly dangerous. History can be changed. But to what end is he using this ability?
Think of it through Terra's eyes. He obviously regrets a lot, so what would he do? Perhaps try to stop MX from possessing him in the first place (this would cause the new Xemnas to cease to exist- a price I'm sure he's willing to pay). There are a lot of possibilities, but many of them are dependent on the extent of his power.
The complete Xemnas may also want to "begin anew," like he said he would. That is, collect more hearts to complete Kingdom Hearts, so that he may become a being above humanity. Except now that the Kingdom Hearts of People's Hearts is
his
heart, he'd be absorbing all the hearts. Just something to think about.
Lastly, in regards to the hint given by the "No Name" keyblade, why would a complete Xemnas be classified as someone without a name? In Xemnas' own words, a name gives something purpose. But he himself believed his own name was of no importance- he did, after all, steal it. So, with a new heart comes a new identity. He is not the same person he once was. He is not Xehanort, not Terra, not Ansem, not Xemnas. He has no name.
With all my bases covered, that's it for now. I will expand later on (the parts marked with asterisks in particular involve ideas that I need to explain).
Actually, just one more idea. Not really related to the others, but I figured, hey, might as well throw it in here.
So you know how Nomura said Mickey may have met Aqua in the Dark Realm? I was thinking about that and about the IKK, about how Mickey knew that it was there. Perhaps Mickey found this out from Aqua- but how did she know?
Remember, she was saved by Terra and Ven's keyblades there. She may have past this information on to Mickey.
What I propose, then, is that either Terra or Ven's keyblade is the IKK (that when Mickey found one of them, they transformed into the IKK).
This would suggest that one of them is a Dark Realm keyblade. And I think it's obvious which. Ven's.
Why? Because he was MX's apprentice.
Keyblades come from the RoL or RoD. What I think may determine their orientation is their genealogy. The type of Keyblade of your master affects what kind of keyblade you have (that it is passed down, in a sense). So while it may seem initially odd that Ven could have a Dark Realm keyblade, remember, he wouldn't have a keyblade had he never been touched by MX.
Of course, keyblades can be passed literally too. Eraqus to Aqua. Yen Sid to Mickey.
So we're not gonna give Ven's keyblade all the love.
What if, while Mickey found Ven's keyblade, Riku found Terra's keyblade? Perhaps, during the time as Rikunort, he was traversing the Dark Realm and found it, and it transformed into WtD (or Destiny's Embrace). It'd be ironic considering that, not only would he be using his Master's keyblade, his own Master would be reunited with his keyblade (since Terra's heart is probably in Riku).
------------------------------------------------------------
So, in regards to the whole idea of sleeping, I think one of the best examples to look at is Riku.
I mean, I think it's safe to say now that his sleep is the same kind of sleep they refer to in Birth by Sleep. Riku was lost to the darkness and wound up asleep. Sounds about right.
What's interesting to note here is where it takes place, "between light and darkness."
Yen Sid uses this exact same language when talking about Ventus sleeping "in the place between light and dark."
And in both scenes, sleep is described as an "eternal" state.
So, based on that, the void that exists between the light and dark, I think, is the place beings sleep, the equivalent of a Purgatory of sorts.
To borrow from the Hebrew tradition, you could think of it as the equivalent of Sheol.
Between light and dark could either mean the Realm Between or the Realm of Nothing (incidentally, we were talking about whether or not there is a RoN in another thread in this section). I find the RoN, if it exists, to be a fitting place for rest, as it would seem kind of odd to have these entities occupying what should be regarded as a habitable realm (In other words, I'm suggesting that the place in Riku's intro may have been, in fact, the RoN).
Now while this place between light and dark is the natural place where people go when they sleep, it is not the only place. There are other special circumstances. For instance, Ven left that place and found Sora. He sleeps in his heart. But his mind sleeps in another location, the Chamber of Waking.
I know that might be hard to conceptualize, but think of it this way:
Is Ven's heart sleeping? Yes, as Yen Sid said. Is Ven's body sleeping? Of course, not like it's dead.
So if his heart is separate from his body, then what within his body is in a state of sleep? The mind.
So too does Roxas sleep (his mind) in Sora. That's what he was talking about when he mentioned that he wouldn't fade back into darkness since he met his original self.
Going back to what rests, I think it varies depending on the type of being. Obviously, as I pointed out, a Nobody can sleep, yet doesn't have a heart, so there needs to be something which can (the mind). But in the case of, say, a whole being, it's, naturally, the heart. Basically, what rests is whatever the individual operates on, what gives them an identity. The thing that makes you "you."
If this seems confusing, just look at it this way: In the long run, the destination of the mind is that place between light and dark. The mind is the part of the being that, after death, is
supposed
to sleep.
Sleep only occurs to the heart when it is taken by darkness, creating a state of torment. That is not the final destination of the heart, though. The heart is supposed to be reunited with Kingdom Hearts. A heart being consumed by darkness upsets the natural order.
Last edited: