trapped in revamp hell
Staff member
Joined

Nov 1, 2009
Messages

17,695
Awards

36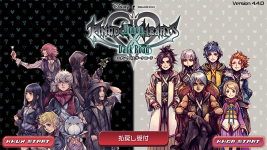 Back again at the title screen. Trying to access the DR side will pop up a message saying it'll be playable in a future update. The center red button is for getting refunds for unused prepaid funds which have no bearing on anyone here lol
Here's what you see when you boot up the UX side.
1. Theater - It is completely unchanged from online mode. You're not going to find anything that wasn't already there before, which means none of the remaining KHX-exclusive cutscenes have been added, nor the narrations/captions, story events, etc. It is also currently missing the finale, which will not be added until Version 4.4.1.
2. Classic Kingdom - The same 5 minigames as before
3. Records - Self-explanatory
4. Keyblades - You can switch between any Keyblade and its 4 forms
5. Titles / Name / Union / Avatar Parts - You'll only have access to the titles you had in your account. That means if you're starting fresh, you won't have many to choose from. Regarding avatar parts, just like in the theater, most KHX-exclusives are unavailable (they were kind enough to let us keep the Hydrangea B outfits and bear and froggy caps). However, you'll have access to pretty much everything that was offered in UX whether you bought it or not. Also the skirt glitch in "The Purpose" is still not fixed.
---
As DR will remain fully playable in offline mode, it'll be mostly unchanged. Here's a sneak peak at the upcoming theater mode (can view any scene with your party member of choice) and shop (cards and items will be purchasable with BP for dirt cheap).
Last edited: