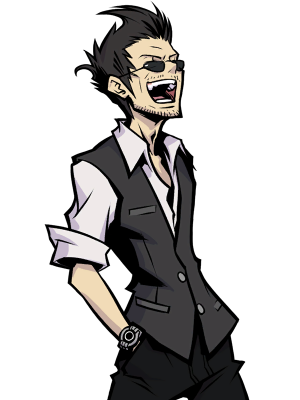 Joined

Apr 13, 2007
Messages

5,765
Awards

0
Website
Lots of new information coming out of Nintendo Power's recent article over Re:coded, where they do a short interview with Tetsuya Nomura on Kingdom Hearts 3D.
Nintendo Power:
We understand that Re:coded has a secret ending exclusive to the DS version of the game. Does that movie contain any hints regarding the direction of Kingdom Hearts 3D?
Tetsuya Nomura:
There is a hint regarding Kingdom Hearts 3D in the secret movie. Players will find out once they see for themselves, but the movie includes some shocking statements and dialogue that pertains to Kingdom Hearts 3D, so it's definitely worth watching!
Where does Kingdom Hearts 3D fall in the series timeline?
Kingdom Hearts 3D takes place after Kingdom Hearts Re:coded, making it the latest development in the Kingdom Hearts timeline.
Will any new Disney worlds be making their first Kingdom Hearts appearance in Kingdom Hearts 3D? How about any new Disney or Square Enix characters?
We're still deciding which worlds to include, but there may be a major overhaul in terms of the selection of Disney worlds.
One of the most intriguing parts of the E3 trailer was when the sky starts raining Soras. Can you give us some hint as to what that represents?
I can't go into detail on exactly what it represents, but it's basically a nod to the fact that something impossible may unfold, since it's not realistically possible for it to actually "rain Soras." The visual concept of falling is also an element I like to incorporate in the game.

Which development team is working on Kingdom Hearts 3D?
The development team that worked on Kingdom Hearts: Birth By Sleep.
Should fans of the series look at this as "Kingdom Hearts III"?
Kingdom Hearts III and Kingdom Hearts 3D are not the same. However, it is a brand-new adventure starring Sora and Riku. The story is on par with that of a numbered title, and I'm sure the ending will shock fans.

Many of our readers are devoted Kingdom Hearts fans. (In fact, 358/2 Days won the readers' vote for Game of the Year in 2009.) Would you share with them some new tidbit regarding Kingdom Hearts 3D that you haven't mentioned anywhere else?
There have been installments in which players returned to Disney worlds introduced in previous Kingdom Hearts titles, however, the catalog of Disney worlds will be almost completely renewed with Kingdom Hearts 3D. I do have some ideas in mind already, but please keep an eye out as we reveal which new worlds and characters will be making an appearance!
source:
http://heartstation.org/gallery/albums/coded/coded-scans/np_recoded 010.png
E3 Trailer:
YouTube - Kingdom Hearts Re:coded Trailer E3 2010
Re:coded Secret Ending:
YouTube - Kingdom Hearts Re: Coded Secret Ending English Subtitles