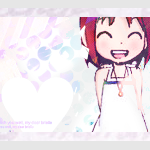 Proud Demyx/Kairi Shipper
Joined

Oct 12, 2007
Messages

4,281
Awards

1
Location
Disclaimer:
I don't own Kingdom Hearts and all that jazz.
Pairings:
SoKai...and others...
Summary:
It's time for Kairi's Halloween party, but Sora just can't work up the nerve to tell her how much he loves her! And it would seem that Kairi's got her own news to share with the group...
"Night of the Unconventional Date"​
It was a dark and stormy night…which only completed the atmosphere of Kairi's Halloween party. She and Selphie had been working hard all afternoon to make the house look as haunted as possible and the results had really paid off. They'd saved some munny to buy fog machines for the foyer, fake cobwebs that hung off the staircases and the tops of chandeliers, foam gravestones, orange and black streamers, and little plastic spiders that they scattered across the buffet table.
Everyone was complimenting them on what a fantastic job they had done when the doorbell rang. Kairi's whole face lit up. "Is that who I think it is?" asked Selphie. Kairi shared a mischievous grin with her and both girls started giggling. "I'll get the door!" said Selphie.
"No,
I'll
get it! It's my house!" said Kairi, elbowing her out of the way.
Selphie elbowed her right back. "No,
I'll
get it!"
"No,
I'll
get it!"
"
I'll
get it!" said Tidus, but he got knocked out of the way as the girls raced each other to the front door.
Riku leaned back against the wall of the living room, next to a life-sized skeleton. "Boy, they're acting strange, aren't they, Sora?"
"Huh?" Sora had been listening to the conversation, but he felt so detached from the party at the same time. The decorations looked nice, but they paled in comparison to the absolute terror of trying to look cool at a party in front of Kairi. He kept wiping his palms on his baggy pants when he thought no one was looking, but they refused to stop sweating whenever Kairi smiled at him- and being one of her best friends, that was happening
way
too often.
His other best friend chuckled. "You know," he muttered, "I'm not an expert on relationships, but I think she's just as crazy about you as you are about her. Even if she isn't, you could still tell her how you really feel. She'll be cool about it."
Sora jumped a little. "What? You think I like Kairi
that
way? Heh heh, that's ridiculous…"
"Yeah right, and I'm also Xehanort's long-lost son."
"Wait,
what?!
"
"Relax Sora, I'm kidding."
"Ohhhhh…" Sora breathed a sigh of relief and smiled. "Geez, I'm acting so weird tonight. I don't know what's wrong with me!"
"You're always weird, Sora," said Wakka, who had only just entered the conversation when he went to get himself some of Selphie's Halloween punch from a fake cauldron. "But that's why we like you, ya?"
Sora didn't get a chance to answer, because Kairi and Selphie had just returned with the final guest. And as soon as he saw the mystery guest, his eyes widened and he dropped the glass of punch that he'd been holding.
Meanwhile, Kairi was blushing and trying not to giggle too much. "Everyone, I'd like to introduce you to my special guest for this Halloween party. Well, Selphie already knows him, and I know you've seen him around a couple of times, Tidus and Wakka. But now…" She turned around and grinned at him. "…you finally get to meet Sora and Riku! Guys, this is Demyx."
Sora blinked. Then he blinked again. And again. And again. His first instinct, upon seeing the idiotic-looking Nobody with the weird spiked mullet and the Organization coat, had been to scream, "How are you still alive?!" More importantly, how'd he know Kairi? That seemed to be the question that would produce the lesser amount of awkward stares, so he stammered, "How do you guys know each other?"
"Oh, we met months ago, while you were still looking for Riku," explained Kairi, "Don't worry, I know you guys are going to be great friends! At least, I hope so, because there's another announcement I want to make." She took Demyx's hand and Sora's face grew very, very pale. No.
No.
This was not happening. This could not be happening. Not under any circumstances. Except that Demyx was smirking at him in a way that said,
Oh yes, Sora, you'd better believe this is happening.
"We're dating!"
"
AAAAAAAAAAAAAAAAAAAAAAAAAAAAAAAAHHHHHHHHHHHHHHHHHHHHHHHHHHHHHHHHHH!
"
"Sora? SORA?"
Sora jumped out of his sleeping bag and grabbed Kairi's shoulders. "No, don't do it!" he yelled, "Don't even think about it! He's a Nobody! It's not
right!
"
"Sora, do we even want to know what you're talking about?" Riku's voice called from behind him.
"What happened?" asked Kairi, "Did you have a nightmare?"
Sora took several deep breaths and looked quickly around the room. He was still in Kairi's house and there were still Halloween decorations everywhere, but they were down in her basement and everyone was lying or sitting up in sleeping bags. "Oh wow," he gasped, "Sorry guys. Just…just had a really bizarre nightmare…"
"Sounds like it," said Tidus, "What was that about a nobody?"
"Nothing," replied Sora quickly, "Don't ask, it was really weird. You guys can go back to sleep."
Kairi watched him until she was sure that he was sleeping peacefully again. Then she lay back on her own sleeping bag and waited to drift back into her dreams. It wasn't long before she returned to a previous vision: she and Sora were running through a haunted house, getting chased by a vampire. They managed to hide themselves in a large closet, and Sora sealed the door with his Keyblade, but they knew it wouldn't hold for long. Kairi trembled and he put his arms around her. "Oh Sora," she cried, "I don't see how we're going to escape from this!"
"Don't worry," said Sora quietly, brushing a strand of red hair out of her face, "I'll protect you, no matter what."
"I know, but what if it gets you first?"
"Then I guess this could be our last chance to do what I should've done years ago." And with that, he swept her up into his arms and gave her a kiss that was sweet, wild, loving, and passionate. She wrapped her arms around his neck and kissed him back just as passionately, as the vampire clawed at the door from outside.
"Oh Sora…" she whispered.
"Oh
Naminé…
" he moaned.
"Wait." Kairi pulled out of the kiss and stared at him. "What? You were thinking of
Naminé?
"
Sora blushed and scratched his head. "Oh…um…naaaaaaaah…that was…um…Roxas talking?"
Kairi glared at him. "You were thinking of Naminé. Admit it."
Sora gulped. "…look…it's not you or anything…I just really prefer blondes over red-heads…?"
"
AAAAAAAAAAAAAAAAAAAAAAAAAAAAAAAAAAAHHHHHHHHHHHHHHHHHHHHHHHHHHHHHHHHH!
"
"Kairi? KAIRI! Wake up!"
~ THE END ~​
A/N:
I haven't posted any Demyx/Kairi or Sora/Namine fanfics in a while, so for those who aren't familiar with them...yeah, I ship those couples.
A lot.
Moreso than SoKai, though I like SoKai too. So I'm not really sure where this idea came from, but once it came into my head I decided that it was time I gave SoKai some love and mocked my own shipping preferences.
HAPPY HALLOWEEN!