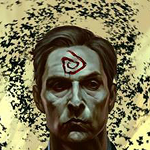 Joined

May 16, 2007
Messages

5,612
Awards

4
Location
Re: New Picture Of Briag.
What should be noteworthy but not too surprising is that, aside from the differences already pointed out, Braig does not have yellow eyes.
From how Ansem wrote in the SARs, it sounds like all six of the apprentices preformed the experiments, not just Xehanort, Even, and Ienzo. Braig, Dilan, and Aeleus might have been the only ones able to act as guards, as Even and Ienzo don't exactly look like the guard types.
The only thing I gathered is that they did the grunt work, like gathering subjects and possibly being the subjects of experimentation as well.
They're dressed as guards, so I'd bet that it's their primary job.
I just don't see how apprenticeship comes into play here.
I suppose they could do both, but as apprentices you'd figure that their apprenticeship would take precedence over guarding. I mean, what, AtW couldn't find someone else to protect the castle?