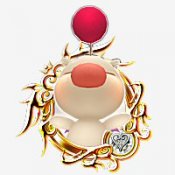 We are Moogle! Hear us...kupo?
Joined

Oct 5, 2009
Messages

8,349
Awards

17
Location
Last year Disneyland Resort released their first every Kingdom Hearts Pin (you can look it up, it had Mickey, Donald, and Goofy in front of the Door to Darkness with the KH logo in the top left). This was important because it signified the Disney parks' first attempt to revisit the KH series since KH2's release. That pin was limited to a very small number and obviously sold out instantly in accordance with such a small number (I believe only 250 were produced).
This year, both Disneyland and Disneyworld are going to release their second official KH pin, and this pin doesn't seem to carry an edition size (so I don't know how many of this one will be made). Unlike the last pin, this pin will not have custom artwork, but it will be 1/2 the price last year's pin, which was around $15 per pin. The pin will focus on the iconic artwork from KH2 of Mickey Mouse in his organization coat.
This is what the pin looks like:
More info can be found here:
Disney Pin Trading Site: Kingdom Hearts - Mickey Mouse
I believe this pin deserves more recognition than you are giving it. As mentioned earlier, the Disney parks have largely chosen to ignore any information about Kingdom Hearts since KH2 was released and I believe last years pin tested the waters to see how well a KH pin would be received. Sadly, that pin only had a very small amount made so the parks couldn't guess how well KH would do overall. This pin doesn't carry an edition size, so I believe the parks want to see how many of this pin will sell in order to grade KH's popularity among the park. If this pin does exceptionally well, we may be seeing more KH pins in the parks soon, and if those do well, I believe there is a chance KH may be given a second chance in the parks. My hope is that if this pin does very well, perhaps Disney will give at least some recognition to KH's 10th anniversary this year, whether it be a poster or more.
I for sure plan on purchasing this pin when it comes out (though I will be in Disneyland mid-August), what about you guys?
Last edited by a moderator: