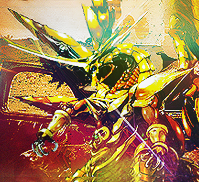 doWnloAd ProgoNOSKES 99% cOMplETeD
Joined

May 10, 2006
Messages

11,535
Awards

8
Location
Website
Naruto
Iridescent Beginnings
All of the lands had been fairing quite well after the last great war ended 11 years previously. It had possibly been the most bloodshed and horror the nations had ever seen, with the major destruction of many of the villages. None had been safe, and in acts of fear to what might have come, many bloodlines were nearly wiped out. These drastic and extreme acts forced the world into a state of paranoia and violence where in years past peace wasn't unnatural among the clans.
For years the war raged on, there being major losses on every side and the loss of many other precious items and artifacts, simply because of simple minded people and the weak minds of those that followed a destructive path. The aftermath of the war was as expected. Wide-scale loss had occurred on all sides...
So they began to rebuild the nations, restoring them to their former glory for the sake of a better future. By simple method of a network between the nations, materials and supplies were moved and traded, transfered and used in the restoration of the lands.
By year seven of the rebuilding process, things were back to normal and though not perfect most of the nations quarrels were kept low key and if anything those whom hadn't let the war out of their minds were the cause of any of the nations few larger problems.
Konoha and Iwagakure had been further advancing their training of ninja to a step beyond what many of the other nations might have thought. Their warriors being some of the best in ninja world had to offer, whether it be for hire or for the protection of all through the minds of the people and the Hokage and Tsuchikage respectively. The last two years have been exceedingly more accelerated than the previous years in the ninja world's new age but other problems have arisen.
The tailed beasts have become active and with all that has been rebuilt the influence that these creatures have could prove to be devastating. A group of figures clad in strange masks with varying special talents have been causing trouble, their motives and reasoning not yet understood. This group titles themselves the Kessui Tensai, a name that brings up hush and even fear that had been forgotten in the hearts and minds of people.
For now things remain fairly normal and the nations still train and prepare for the upcoming chuunin exams to be sponsored in Konoha by the Rock. The minds of many ninja is on what their genin are capable of and how their Nation will be proved the best of the best.
With the exams only 2 weeks away the nations are sharp tuning their ninja and preparing for no doubt the most exciting Chuunin Exams in years, and rightly so. Yet as all this glory and fervor for the future, Kissui Tensai watches in the shadow from behind their masks, an unknown air of sinister intentions behind each of the 6 members covered faces.
What is to happen in the future can only be decided by those that get involved.
Mhmm, an AU Naruverse rp. Its pretty straight forward eh??
If you want one of these spots PM me your completed template, there are only 3 spots remaining.
Rules.
1
Lets try and have fun in this rp, make sure to adhere to the roles of the role playing section and those of the site itself.
2
Mention if you won't be able to post as to not cause lag. Post it in the thread or PM, or VM me.
3
Be CREATIVE. Let loose and expand your knowledge of the Naruverse into your role playing experience.
4
Put "Who's Naruto??" at the top of your template.
5
If I have a problem with your template, fix it. I don't plan on rejecting much unless it doesn't make sense.
6
I lied, Instead put <3 Narutard <3
7
This is an AU Naruto rp, the characters and bloodlines from the manga and anime exist but other story factors can be different. IE: Who says Minato was the Yondaime Hokage??
8
If a fight breaks out, keep it real. People get wrecked in Naruto, some damage if that would apply.
Slight power playing is allowed but only to keep battles running smoothly and only with physical attacks. Role players are expected to be able to post accordingly and calculate damage fairly depending on posts.
9
If you have questions, then ask them, there's no reasons to be left in the dark so I'll help in those areas as much as possible.
10
You really want to be a Hyuuga or Uchiha that bad?? There are three spots for each available unless you PM me about something out of the ordinary. Completed templates get first priority.​
Last edited: