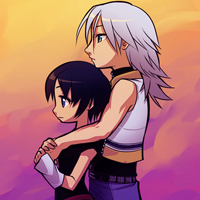 Joined

Jan 31, 2008
Messages

16,306
Awards

5
Age

36
Location
Website
I know some might find the urge to go "THIS SHOULD BE IN THE UNBIRTHS THREAD!" once they reach the point of this thread.
Should a Mod decide that it's to be so, I will accept their decision.
However, this is
not
, I repeat,
not
discussing the Unbirths, but instead has Namine as the center of this theory.
So unless you're a mod, pipe down >.>
Also, this probably has
so
many holes in it it's ridiculous, but I prefer to think they're holes caused by knowledge we don't have yet as opposed to the basic logic being flawed.
To top it all, this strings together some theories, as well, so I do hope you're going to bear with me.
I has cookies, after all <3
*clears throat*
A-HEM.
Well, due to that prolonged introduction, I'm pretty sure most of you have already managed to understand what it is I'm going for by saying this theory will involve the Unbirths, Namine, and where did my adorable blonde come from, as implied by the topic (or, rather, bluntly stated...).
Yes, that's right, I'm going the distance here.
Namine is not Kairi's Nobody, but rather - her Unbirth.​
I see y'all pulling out the pitchforks at me. Yeesh. *turns on God Mode*
Well, you can say whatever the deuce you want, but there are far too many facts that simply don't tie in with Namine truly being what Ansem the so-called-Wise said she was in his reports.
Namine effectively has no Body and Soul to have been created from.
Sora's Body and Soul moved on to become Roxas.
Kairi's Body and Soul remained being Kairi.
What did then move on to become Namine?
Apparently nothing, if we go by the words of the person who said Namine was a Nobody to begin with.


Secret Ansem Report 9 said:

In other words, both the Nobody called Namine' and the Heartless – proof of a lost heart – are extremely unstable beings who lack the bodies needed to produce a Nobody.

While that might imply that she had the Soul needed... she had no Body, and isn't that the main issue of being a Nobody?
(Also, neither Roxas/Sora nor Kairi ended up dying, so that means that she didn't have a whole Soul if any at all).


She is a non-being in the truest sense of the word; having not become a Nobody and with nowhere left to go, she is but the most fleeting of shadows.

...mmYeah ok I think this is my favorite quote thus far. Then if Namine isn't a Nobody, and she has no Heart since both Kairi and Sora kept their, what does that leave her to be? No no, I can't hear you. Louder, please.
Thank you.


Ansem the Wise has no idea what Namine really is.


Secret Ansem Report 10 said:

As I have written here before, she is a most unusual being.

I have arrived at a hypothesis

Not a fact.


The combination of these two theoretically unlikely exceptions may be behind this anomaly.

Not a certainty.


Secret Ansem Report 13 said:

Roxas, Ansem, Namine'…

They defy all logic, yet there they are: singular exceptions to the rule.


This leads me to believe that his explanation is acceptable - to a limit.
After all, I think it's pretty safe to assume that by the time AtW even began his studies - Unbirths were scarce. Even if Namine truly ends up being an Unbirth, AtW never would've thought of it simply because he didn't know it.
Seeing how Kairi was the Heart, that left Namine with only one known possibility - which might not have been the right one.
So we have a Nobody that has no Body nor Soul and an old, revenge-driven guy that doesn't know all that much at the end of the day saying she's a Nobody.
Let's look at how it's possible she's an Unbirth, how this would solve problems, and how, in a way - Ansem the Wise said as much himself. I already quoted you some fun bits of it, in fact.
Despite her Heart having left a Body, Kairi produced no Heartless, and as shown by numerous quotes from Ansem the Wise, apparently, no Nobody. Remember then please that when Unbirths were around - there were no Heartless nor Nobodies.


Secret Ansem Reports 10 said:

Born of the same process as a Nobody, but lacking virtually all of the elements of a Nobody.

It's true Namine was created from the same process as a Nobody would - in present day. Remember then please that Unbirths are said to be the Ancestors for both Heartless and Nobodies. The same process, under different circumstances and conditions, could possibly yield different results - being an Unbirth.


Secret Ansem Reports 9 said:

She is a non-being in the truest sense of the word;


Non-being... kind of rings a bell as far as lingual connection is concerned - Unbirth seems similar enough to me.


having not become a Nobody and with nowhere left to go, she is but the most fleeting of shadows.

Yup, definitely loving this quote.


What could these circumstances be that yielded an Unbirth? What conditions? Here they are.

Kairi's Pure Heart. Why should we care about this? Well, recall the legend Kairi's grandmother told her. Once upon a time, there was only Light in people's Hearts.
Once upon a time, as far as enemies are concerned - there were only Unbirths.
What if Unbirths are actually the result of a Pure Hearted person going through the same process a person with Darkness in their Heart would undergo to create a Heartless?
This ties in nicely the fact there are so few people with Hearts of Pure Light - quite a few of them became Unbirths for whatever reasons.
So there were people with Pure Hearts creating Unbirths, then the events in the legend Kairi's Grandmother told her came to pass, the people had Darkness in their Hearts, creating Heartless and Nobodies instead.
Things to take from this: Don't cling to the fairy tale, but to the concept of a Pure Hearted Person going through the Process that now-a-days would created a Heartless and a Nobody.

Sora effectively releasing two Hearts from his Body. This could actually tie in nicely with all the Keychainsless, apparently Wielder-less Keyblades in Sunset Horizons. Keyblades having Hearts, yo? You get my drift; only instead of a Master and Keyblade, we had Master and Princess of Heart. If we still want to say Sora's Keyblade had a Heart, that doesn't hurt at all.
It was simply Kairi's Heart that created the Unbirth while the Heart in the Keyblade stuck around with the Nobody - thus explaining both Roxas's Wielding abilities and Axel asking him if he had a Heart - which he would've.
Wouldn't make much sense, I know. It's a broken example.
Things to take from this: Two Hearts leaving the Body at the same time, thus creating a by product being the Unbirth. The Process was obviously changed seeing how we don't discuss a Keyblade's Heart here, and Sora obviously turned into a Heartless and Nobody, complicating this. Don't get into this please. Broken example, again.
Important
Again, pay attention to the main issues bolded above. I don't want to get into further discussion over broken examples; they were the best I had.
As for Namine's human form, I don't think it takes too much explanation. Sora, after all, already gave birth to both a Heartless and a Nobody that managed to maintain their human form (even if Sora needed a bit of Kairi's help in that matter).
Throw in Kairi's purity of Heart and there goes our human-shaped Unbirth.
Now this is what I like to call a "sink or swim" theory. There is one single yet crucial piece of information missing that in one swift motion either base this thing by being the missing piece of the puzzle, or sink this to the deepest bottom of the ocean. That is, of course - what the hell Unbirths
are
.
They could range from Memories to Dreams to Part of the Soul to whatever. Yet should they be either Body or Heart, this falls apart.
I'll go for a moment with either Memories or Dreams (as explained in a previous theory by me).
Let's see how this solves problems.
Namine certainly aged from CoM to KH2. Nobodies are said to not age. Whoever said anything about Unbirths?

Should Unbirths be Memories, this would explain too much about Namine. Ranging from the amazing powers she has over Sora's own Memories - being the one that still she physically hailed from - to her being able to affect others' Memories as long as they have relations to Sora. This of course assumes Unbirths are related to Memories, a valid theory as far as we know. After all, BBS will be about the bonds between Hearts, and CoM and the beginning of KH2 showed us that that is exactly what Memories are.

Her returning at the end of the day to Kairi. Should she be a distant Memory of Kairi's, say - from before Kairi reached Destiny Islands. She would still have a base, yet no Memories she could actively reach.
KH1 showed us that Kairi in fact does have Memories of Radiant Garden, yet it's almost completely safe to assume that while she remembers, the Memories are out of reach Forgotten but not lost *coughcough*. Thus, Namine has something to be made from that at the end would not return to Sora, but to Kairi.
If we want to go down the path of Dreams, her being related to Sora and reaching out to him of all people is exactly what Kairi's been longing for since the beginning of KH1. Little explanation needed there.

Namine's place with the Organization, or to be precise - lack thereof. Remember all those theories about Xion not being a Nobody and thus, at the end of the day the Organization remained numbering 13 Members and not 14? Well, who's to say Namine wasn't a tad more obvious about her lack of Nobody-hood, thus not even getting the coat? Popping up in the middle of Castle Oblivion, having powers over something within the Whole, within the Somebody instead of an element... it's easy to see how, despite her insane value proven in CoM, she would be shunned as a witch - especially if everyone were unaware about Unbirths - which they seemed to have been.
Nobodies, being different and shunned, are the prime example of a being that would hunt down and prejudice against those different even from themselves, and if Unbirths truly are as fleeting as Ansem the Wise described Namine to be, it's easy to understand Larxene's habit of being high-and-mighty around Namine.
After all, an Unbirth like Namine would be far, far less than any Nobody, let alone one that retained her human form and has control over Thunder and is apparently good enough for Marluxia to let her in on his Coup d'état... if only because Namine was the different, one-of-a-kind specimen that people were kind to yet hated at the end, simply because she was different.
11\10\08 edit
In light of the TGS. Expect this to be updated often.
Xion - a special Nobody that looks and sounds like Kairi.
Xion: "Do I not exist?"
Axel: "What do you want to do, Xion?"
Xion: "I... I want to be together with two people."
Roxas: "Well, then come back."
Xion: "... But I can't return as it is now. How is it possible for two people to be the same?"
[together with] Two people - Sora and Riku.
Two people to be the same - Xion and Kairi. A question remains why she thought there would be two instead of her disappearing into Kairi like Namine and Roxas did into Kairi and Sora, yet we'll assume for now that only became a fact -
1) After Roxas did so with Sora in KH2, or
2) When Xion herelf was the first to do so in Days, thus 'returning' to Kairi!!!
Xion: "Will you tell me about it? About Sora, about Sora and the girl he's always together with."
Riku: "You mean Kairi?"
Xion: "Kairi... The girl looks like me."
Again, obvious similarities. They wouldn't have said they look the same if it wasn't true even beyond game graphics.
That would make it so that Kairi didn't only have a Nobody out of thin air, but also - two Nobodies.
Excuse me while I find that painfully hard to believe.
Well, that's it. I'm sure I'll remember too many things afterwards and try to squeeze them in later, but for now, this is the monster of a theory I present before you.
And as promised.
:3~
Last edited: