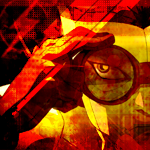 Joined

May 13, 2007
Messages

3,995
Location
I just finished BBS last night and unlocked the Secret Ending and I watched it and im trying to make sure I understand it all. Also, im not 100% clear on the whole series so sorry if I say stuff thats been said in one of the games.

First thing is with Ansem, I saw he helped Xehanort and took him to his Mansion and most of the Org. members are in Radiant Garden. So im thinking that some time during those 10 years Ansem makes a machine and creates Heartless and Nobodies which affects Ansem by sending him into the Realm of Darkness, Xehanort becomes a Heartless A.K.A Ansem in KH1 and his Nobody is created A.K.A. Xehanort in KH2, and everyone in Ansems mansion including Lea and Isa go through the same thing and get their Nobodies and form Org. XIII. So if thats true then in KH1 when we see King Mickey inside Kingdom Hearts door he was looking for Ansem. Then in KH2 Ansem has another machine that turns Riku back into his normal self and he gets sent to the Realm of Darkness where he meets Aqua.

Then for Terra and Ven at the end of the video, im guessing Terra came back because Sora killed Xehanorts Heartless(KH1) and Xehanorts Nobody(KH2) which would restore him and also the Lingering Sentiment returned to Terra after Sora defeated him? Then of course Roxas was defeated and went back to Sora's heart which then was his time to go back to Ven's body and Terra woke him up so they are back now and since Ven's heart was gone he never aged or something? And im guessing cause of what happened in Chain of Memories restored Castle Oblivion to TAV's world?

So basically now Sora has to go to the Realm of Darkness and save Aqua and Ansem and then I read somewhere that KH 3D is about Sora and Riku taking the Masters Exam which will lead to KH3?

Thats what I got from playing KH1, KH CoM, KH2, and KH BBS so if I got anything wrong or missing something can you explain it to me? Thanks.