Joined

Sep 29, 2017
Messages

143
Awards

19
Age

25
Alright guys, so Square Enix and Disney have already given us all the information to figure out what world they're going to announce next. I have solved the mystery and I'm here to show you what I found. First of all, let's take a look at a world we've been shown already.
Right now you're probably thinking, "but End, how could knowing about the Toy Story world tell us what the next world will be?" The answer to that question is so obvious that you'll be smacking yourself in the forehead after you find out what I discovered.
Think about it, what other popular Disney franchise has toys? THAT'S RIGHT.
CLUB PENGUIN.

It is clearly obvious what Tetsuya Nomura means by all of the clues hidden throughout the KH series. Think back to
Kingdom Hearts 2
in the Mulan world. Do you remember what Sora said when he was in the snow? Neither do I but the point is that Sora knows how to
handle the cold
. This lead many people to believe that Nomura was hinting at the possibily of a Frozen world, based on the popular animated movie Frozen. This idea became null though once they revealed the Rapunzel world, from the less popular animated movie Tangled. Frozen and Tangled both have towers in their movies and I don't think Square Enix wants to have two worlds with towers. That would be crazy! This is why I went hunting to find the answer to why Sora could handle the cold so well. A Club Penguin world just makes sense. Donald is even already a bird.
For my final piece of evidence, take a look at the final message of Club Penguin's online game website before it closed.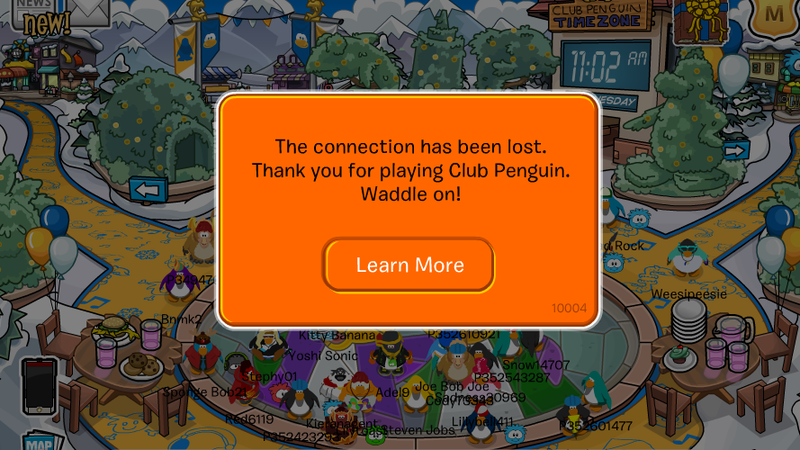 It says "the connection has been lost," could this be a reference to the connection Aqua had with Terra and Ventus before she lost them at the end of Birth by Sleep? Aqua means water and Penguins are well known to swim in water. It also says "waddle on" which clearly shows there is more penguin to come in the future, since penguins waddle to walk. This could also be a reference to the Kingdom Hearts 2.8 Final Chapter Prologue box art where Sora is walking. If Sora turned into a penguin he would be waddling and not walking. Think about it.
I'm sure this is enough evidence to convince you all that there will be a Club Penguin world in Kingdom Hearts 3. If you have any additional proof towards this clear fact please let me know. The truth has been made clear and I had to let you all know the exciting news.
​
EDIT: So it seems the mods think the world isn't ready for this exciting info since they moved the thread from KINGDOM HEARTS 3 to Forum Insanity, but don't be discouraged! There is still hope for a Club Penguin world, the evidence is all there. Waddle on, wielders.
Last edited: