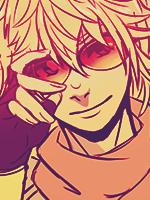 Joined

Mar 31, 2008
Messages

12,519
Awards

6
Age

31
Location
Well, there was a thread in the KH1 sub-section, so why not one for the KH2 summons?

Okay, here are mine:

Favorite Summons:


Genie: I guess this is a given. I love how when Sora turns into one of his Drive Forms that he takes on the same exact one. It's a really neat feature that they added to Genie to make him unique and different.

Peter Pan: Damage-wise, Peter's attacks do the most for me. I absolutely love his summoning animation.
​

Least Favorite:


Chicken Little: For me, I really didn't use him, and I just found him, as a summon, completely useless. :/

Stitch: I'm sad that I didn't really like him as a summon. As a character, I love me some stitch, but yeah. >.>
​
​