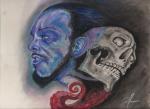 Joined

Dec 23, 2005
Messages

3,803
Awards

1
Age

32
Location
Website
This is just a really quick rough sketch of what's to come. It's very personal for me as you can see, because I'm using myself as the model for this one (as well as 3 - 4 others).
Once I've added more detail to it you'll be able to see some voodoo skeleton paint showing through on my body as well as a scythe in my right hand (holding it behind myself).
The idea of this piece being that everyone's got to fight with Time, Mortality/Grim Reaper/Death is just a part of life whether you're aware of it or not.
No matter how hard you try one can never truly escape it.
I'm kinda starting to not like the medium I'm working on though, Bristol Board Smooth isn't very "smooth" when it comes to shading and the tones tend to smudge rather than blend unlike Vellum paper (I didn't realize I had a different type of paper until I started drawing, sadly).
I'll be using this as a model for the skeleton designs I'll be drawing on my skin. I'm unsure if I'm going to color the rest of my skin solid black or if I'll just have my normal skin tone, either way I know how to make the details pop out.
http://www.sjdigitalsculptor.com/1.arts/Skeleton/1.jpg