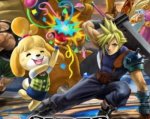 Joined

Feb 15, 2012
Messages

4,550
Awards

2
Location
Yeah, so I am dead lol.
They literally killed like everyone I didn't expect lol. But that also sorta makes it obvious the snap victims at least are all coming back. As a large amount of them have movies in phase 4. If anything this feels like a set up so some of the OG members can save the universe one last time, cuz I really don't see them all making it and their deaths would stick for good.... Black Widow is like the only one I think is safe since she finally has a movie coming out in phase 4 I think?

But yea, even knowing they will all come back, except maybe Gamora :( , that scene still made me stomache drop. Like I was unhappy for quite a while lol. But yea Gamora's shit hit me more. Cuz one, she doesn't deserve to be some sacrifice to her shit dad who she hates, and two, I really wasn't expecting it and I think it could stick... I'm sad about Vision as well, but I was fully expecting his death so I was prepared.

I feel really bad for Tony, Rocket, Okoye, and Steve. They had to like watch some of the most important people to them like disintegrate in front of them...and then Nebula lost the only person who cared for her too. I think all of them will have a lot of drive to murder that California Raisin though.
Did I mishear shit in the movie or did they say that half of the Asgardians survived the destruction of the ship? Like, did they escape in escape pods? Am I misremembering? I mean tbh the main reason I am concerned is for my girl Valkyrie BUT I feel like I remember hearing that in the movie.

Also, Tony Stank and Nebula as a duo? I never saw that coming and I'm actually really excited to see how shit goes from there following those two, though there's a LOT of other stuff I'm excited for in the squeakquel as well. I'm guessing Part II will feature them bringing everyone together with everyone who also was absent (Valkyrie, Ant-Man, the Wasp, boring Hakweye) to fight against Thanos?

I kinda really liked the ending and tbh wasn't quite sure that's the direction they would have gone but they did.
Them and
Captain Marvel yeah. I think Valkyrie has to be alive too, there is no way she would be killed off screen with like no mention....right? I would be irate tbh. Though, I guess I dunno how far back they are going to reverse things in the next movie. Like, maybe even before Thanos gets any of the stones so they would all come back? Though Loki can stay dead, quite frankly lol.

I am interested in that duo as well, but real talk, I don't know if I see either of them making it through the next movie alive...mostly cuz I'm surprised they made it through this one. Both of their narratives have been leading them to clash with Thanos for a while now, and now both have someone I think they would trade their lives to bring back: Gamora and Peter.
Last edited: