Joined

Oct 10, 2004
Messages

2,626
Reaction score

0
Points

0
Age

32
Location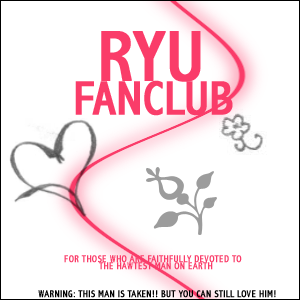 This is for all those secret admirers of our beloved Ryu. If you love Flare's treasure like me...<.< I swear I'm not gay, his eyes touched my soul, post here and join the club. We need a president and some other governmental members.
​
MEMBERS LIST:
Ryu: Our Abe Lincoln/Statue of Liberty
Fan #1 Mega Flare: President of the Ryu Lovers...<.< and my corruptor.
Fan #2 Morpheaus: Ryu's non-homo erotic...semi homo-erotic Secretary of Defense.
Fan #3 darky_dee4556: Monica Lewinskye of Ryu Lovers. >< Does this mean Ms. Flare had sexual relations with Ms. Lewinskye?
Fan #4 Riku#1hottie: Ryu Lover's Attorney General
Fan #5 Johnny Stooge: Ryu's overseas contact
Fan #6 TheMuffinMan: Hair Stylist
Fan #7 jk4eva: Ryu's Public Relations Specialist
Fan #8 Raito: Ryu's Official Lover Spreader
Fan #9 its_beca: Official Long Distance Lover
Last edited: