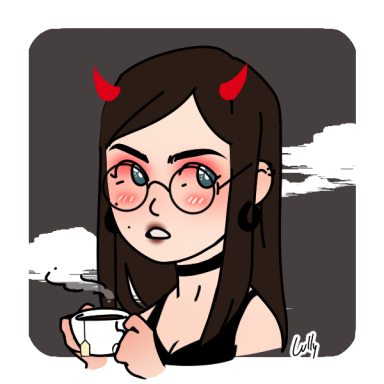 Joined

Jan 20, 2004
Messages

4,621
Awards

11
Age

32
Location
Website
The first time I smoked a cigarette, I was in love. Not the warm melting feeling, but the sticky mess that happens when it's the wrong time, wrong place, and the both of you are horrid for each other. The blackness in my heart stole me many times but I ended that particularly long overnight shift early, after dramatically going to the back storage room away from my manager just so I could cry every ounce of my organs and guts out onto the stock room floor while trying to conceal the noises as I wept. I don't know or remember what particularly happened to make me so violently sad and angry with myself, but that was just how it happens, with anxiety creeping in, joining hands in a merry-go-round with depression, circling you until someone falls down. It tore me down to my knees and I wept for what felt like hours. My body felt like it was rocking, like I was on a boat in the middle of a storm, and the tides were telling me that it was useless, that I'll never be free from this. I just about threw up.


I went to the front after trying my best to make my face not look sunken or red and puffy, or soaked. My manager, a lovely middle-eastern woman with not many more years over myself, soft features wrapped in a hijab, and the kindness and motherly warmth of a saint, and noticed I was crying right away, without even hesitating, asked me what was wrong.


I reluctantly forced myself to ask, giving up, just needing something. I mumbled it at first, but I know that the last word got through to her. "Siddiqua, can you ring me up for some cigarettes," I managed to say.


I remembered sitting with him in his Ford Focus that I own today, but at the time it wasn't shitty or breaking apart piece by piece. But I remember when it was his, all of the memories, strong with happiness and sadness, the feelings you get when you're talking about everything and nothing at the same time. He was smoking at the time because he was going through a lot, and was couch hopping until he got on his feet again.


I used to hate smokers. The way he made me feel, though, when he smoked, was like I was in a high school PSA. He made it seem cool, with his calm expression, the way his long fingers held the cigarette, the smoke drifting from his lips in a sweet smokey menthol scent. I reacted to the smell of the menthol smoke, and he told me what kind they were before I even asked.


After some worry and concern from her, she rang me up a pack of green Kool 100s, the same long green pack that he smoked. My logic at this time was that I could smoke one or two, to just get me by for the night, and give him the rest and be done with it. I thought he'd also be happy to get a free pack of cigarettes, because I just wanted to make him as happy as I could. I just needed it for now. But my manager still noticed the sadness in my eyes and asked me what was wrong again. I was open with her, as you need to be to survive overnights, and told her about him, about how he was dating someone else and wouldn't ever be interested in me like this anyway, we were best friends and I didn't want to lose that, either. I didn't want to make him feel miserable because I wanted something from him that he could never give me.


She instantly understood, and said that she had went through something similar when she was my age, before she got married. She told me that I can get through this, and because she had even met him previously from his visits to our store, said that we would most likely end up together. I disagreed at the time but her accuracy has yet to be disproved. I nearly started crying again after explaining it all to someone who genuinely cared and wanted me to be happy.


Siddiqua noticed the delirious expression I was trying my best to hide, though, and said, "Go home and get some rest, Sabrina." She was a head shorter than me but the firmness of her grip on my shoulder gave me some clarity. She was always great like that.


It took a bit of repeating and convincing but she was never forceful. It was only three hours before the end of my shift and I was physically and mentally drained, exhausted from my breakdown. It was around five A.M. that I set off for the forty minute walk home, but I took it, hoping the walk would also calm my nerves. I got to the end of the parking lot before sliding out the first long cigarette, playing with the smoothness of the paper in my fingers before lighting it with the pretty blue lighter I bought with the pack, feeling the smooth plastic on my thumb while I walked.


I remembered the advice I got from some British TV series I was watching at the time on how to smoke properly, inhaling slowly into your mouth, then deep into your mouth, slowly exhaling after a second. The nicotine hit my brain and I began to calm down as it mixed within me. With my headphones were blasting sad and angry songs that reminded me of him in my ears, songs we even had sung together in his car. I sang my heart out, from deep in my gut, as I walked home, not caring if people could see or hear me in the cold echoing weather with the early dawn hushing all other sounds. I needed this; screaming, crying, and singing. My walk had a lighter feeling to it as I sang with my messenger bag tapping my side at my thigh with each step.


While I still smoke now, despite it taking a very long time for me to become genuinely addicted, those cigarettes probably saved me in a way, which is an awful thing to say about cigarettes, but it's how I feel. The depression I was going through was deeply rooted in the only option of getting out being suicide, and I just couldn't do it, but smoking stopped the sobbing, which in turn stopped the breakdowns. My feelings for him went on for a long time, on and off friends for a very long time, on and off lovers, but those couple years of longing taught me a lot about myself, about himself, and about us and I am now thankful for all of that time spent, thankful for that pain, and thankful for that green pack of cigarettes that saved me and gave me clarity, if only, for a handful of minutes one winter morning.