On March 1st 2019, Square Enix announced that the popular Kingdom Hearts compilation, Kingdom Hearts -The Story So Far- will be released in Canada, Latin America, and Europe. The compilation will release on March 15th 2019 in Canada and Latin America, while Europe will get the collection on March 29th 2019.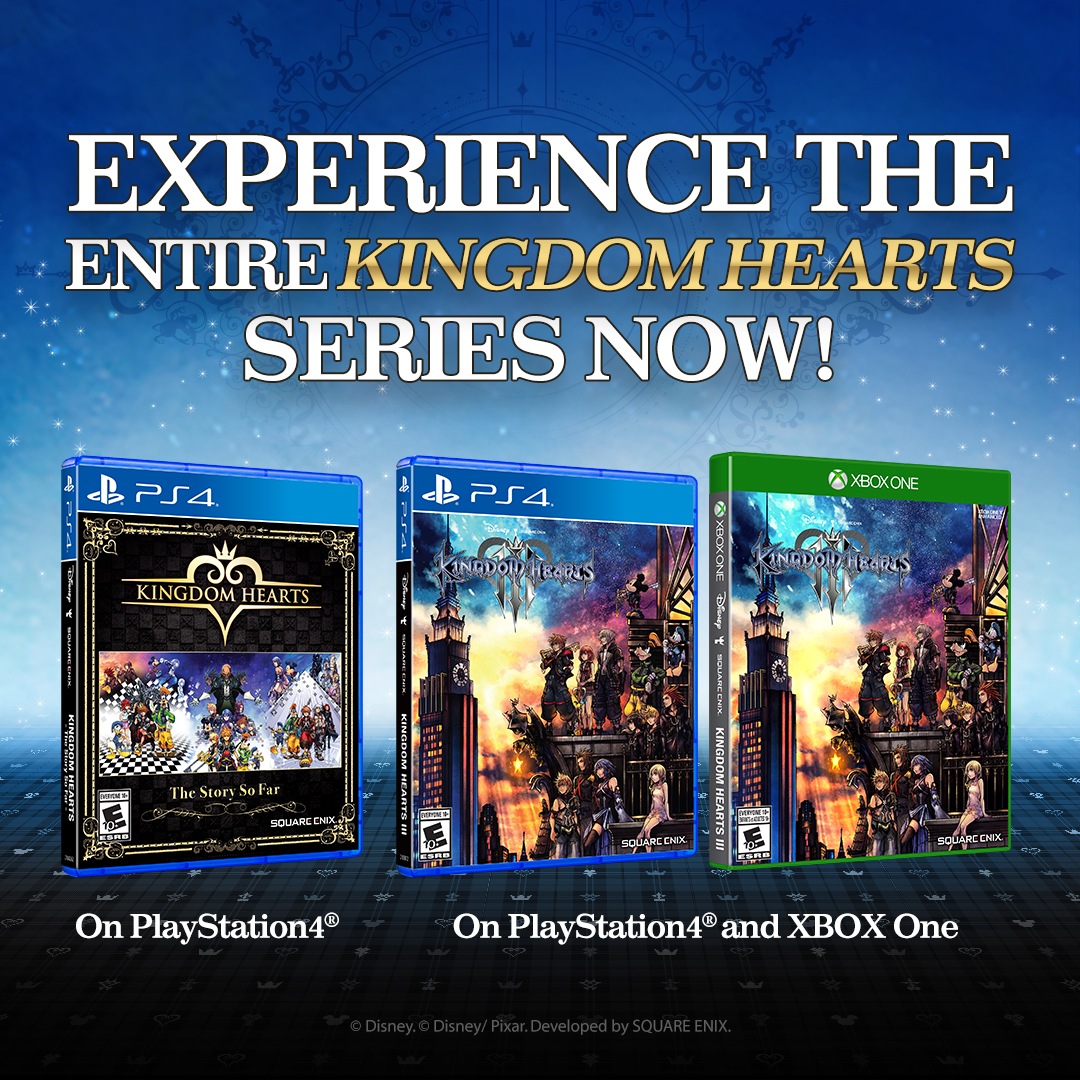 Square Enix issued a press release for this announcement, including the compilation being restocked at US retailers:
The sold-out KINGDOM HEARTS compilation KINGDOM HEARTS -The Story So Far- has returned to US retailers, including GameStop and Best Buy. Due to the popular demand, the compilation will also be available in Canada and Latin America starting March 15. KINGDOM HEARTS -The Story So Far- offers an opportunity for fans to better immerse themselves in the lore leading into KINGDOM HEARTS III, the latest mainline entry in the blockbuster action-RPG series.
 

The collection includes:
 
KINGDOM HEARTS HD 1.5+2.5 ReMIX

KINGDOM HEARTS FINAL MIX
KINGDOM HEARTS Re:Chain of Memories
KINGDOM HEARTS 358/2 Days (HD Remastered cinematics)
KINGDOM HEARTS II FINAL MIX
KINGDOM HEARTS Birth by Sleep Final MIX
KINGDOM HEARTS Re:coded (HD Remastered cinematics)

KINGDOM HEARTS HD 2.8 FINAL CHAPTER PROLOGUE

KINGDOM HEARTS Dream Drop Distance HD
KINGDOM HEARTS 0.2 Birth by Sleep –A fragmentary passage–
KINGDOM HEARTS χ Back Cover (movie)
Follow Kingdom Hearts Insider on Facebook and Twitter for the latest updates on The World Ends With You, Kingdom Hearts Union χ [Cross], Kingdom Hearts III and all things Kingdom Hearts! 
Last edited by a moderator: