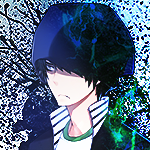 Joined

Jul 21, 2008
Messages

7,142
Awards

4
Age

30
Just how far is it that someone can fall? How long can they spend in a sea of darkness before it finally consumes them? I've cast away all that remains of my former self, tossed my emotions out like the anchors they were. Nothing is left... Except my memories. As long as the memories are there, the pain will never go away. How many times now have I found myself with a pained chest, and a deep despair cutting into me, cutting into the place where my heart once was. It's the kind of pain you can't escape from, not even death will give me comfort. So I surround myself in the dark, hoping it will swallow my sorrow along with it. Yet it is not enough, not matter how dark I become the world mocks me with it's light. The light... I must snuff it out. Only then will the pain stop..
It's been two years since it started, it began when contact with one world was lost, Those that were concerned sent people to find out what happened, but they never came back. This caused distress in the other worlds, however they would come to find that even their worst nightmares were not close to what was about to start. A massive army of heartless appeared from what seemed like nowhere, and one by one they fell to the darkness. The worlds were not destroyed however, instead they were overrun by the army of non-heartless followers and their single leader. No one knows who this leader is or what he looks like, all they know is that he has a deep desire to plunge everything in the universe into darkness. Whatever was left of keyblade wielders was wiped out, and anyone known to possess the weapon marked as a rebel. Even so those who do wield the keyblade seem to be no match for the armies before them. Countless keybladers have been struck down, some publicly executed to warn others. Most doubt that there is anyone who can stand up and fight anymore.
Worlds thus far: (Feel free to come up with worlds, I may add them.)

Disney castle - (The first world to fall. Now serves as the main base of the empire of darkness.)

Radiant Garden - (FYI it's not so Radiant anymore, the once clear blue sky is now cloudy and crimson.)

Twilight Town

Arcadia

TEMPLATES
(I should note that it's not uncommon for a human, Nobody, ect. to be on the empire's side. Just state it in your temp. Also I'll only be accepting up to two Keyblader temps. )
Name: (Last names aren't needed :3)
Age:
Gender:
Appearance:
Personality:
Bio:
Fighting style: (If they can fight how would they go about it? Keep it sensible and don't try to be as fast as the bloody Flash)
Other:
RULES
1. No Godmodding or power-playing.
2. Literacy: Doesn't have to be perfect, but also no one feels like trying to read stuff that looks like the work of a 3rd grader.
3. No limitations for the number of characters you can have. You just need to be able to keep up with them all.
4. Activity: Please, only join if you plan on posting.
5. No one liners. One paragraph minimum.
6. Romance is allowed, just nothing completely explicit.
7. Keep the fighting realistic. No one wants to be in a fight with a person who dodges everything you throw at them.
8. This is an Alternate universe RP, meaning there will be no canon characters.
9. I kinda want this to be a more 'mature' RP, so really I'm fine with loosing the limits on violence and such.
CHARACTERS
Yuki/Ui - King Wolfe
Minaki/Yahiko - The Promise
Rika - The Promise
Capell - Piercing Light
Ryoko - Piercing Light
Derrick - Aphex
Relantz/Retnyw/Salforge - The Citrus Cult
O'nam - The Citrus Cult
Kanza - Kingdomkey96
Haruka - Darkfyre
Ciel - lumine
Kaidaku - King Sora X
Flora - King Sora X
Claire - Evangeline
Ubi Ty - Ubi Ty
Glacius - Relix
Dia - Icebluewings
Coraleye - Nigga Sauce
​
Last edited: