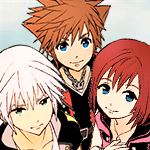 Joined

Dec 5, 2009
Messages

2,025
Awards

6
Location
KH3: Ansem's data who?

But really, KH3 just ruins all of the careful story building Nomura had made over the years. I know it is because he was just absolutely bored with his own story and eager to introduce new content, but a writer can't create all of this buildup and then just suddenly drop all of it with rushed conclusions.

There are so many of these moments in the series where we get this really good lead-up to something and then KH3 just ignores it for its own nonsense.

Definitely the build up to Sora finding out about having Ven's heart was absolutely wasted. It should have been a better moment, something more personal. It would have made more sense for Riku to be the one to guide Sora to this conclusion since it was originally Riku that guided Sora to even connect to Ven when he was dying again in BBS.

Mickey and Riku should have come to this conclusion. It should have been meaningful, and Sora meeting Ven for the first time in person should have also been a big moment.

Roxas...lol I'll never not be upset about Roxas. KH3 likes to pontificate on how Sora really wants to find and save Roxas, but it doesn't matter. It's resolved off-screen by characters we don't even give two shits about. Sora has absolutely no role in bringing Roxas back besides being in the right place at the right time. Roxas' heart just shoots out. Why was that even possible when it was such a big deal to free Ven's heart? How did Xion's heart leave Sora's body so easily? WHEN?
Yeah, this is probably the biggest grip I have with KH3. It not only does it ignore the plot for most of the game, but also sidesteps a lot of plot points and set up done in the game we've been getting in the decade between, with coded and DDD being hit the hardest. Frankly KH3 made coded completely unnecessary seeing nothing learned there seemed to be acknowledged.
Instead of getting proper pay off for the connections established and seeds planted in previous titles we got them making zero proper progress and relearning things us players already knew. Instead of learning of the three hearts inside of Sora, we should have learned about how to retrieve them and been working on that while visiting Worlds.
I probably sound like a broken record, but saving all the plot for the final world and segment of the game just doesn't feel rewarding. Especially in this game, it made everything we waited for feel rushed and not as satisfying as it could have been. Like I personally still enjoyed the Tower Scene and the Trio reunions, but I know they could have done does moments so much better had they spread them out and dedicated time to them.