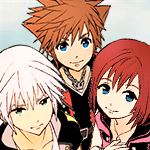 Joined

Dec 5, 2009
Messages

2,025
Awards

6
Location
This is what's kind of worrying me. I really wanted to move on from xehanort after KH3. But so far, we're still stuck with Xehanort and his shenanigans. No foretellers, no yozora , no Luxu's box. I really hope they move on.

The fact the trailer even aludes to a "Final Plan" by xehanort is just...ugh.
I think that's because the Xehanort Saga failed to wrap up all the remaining loose ends, these stories were still kinda missing.
I wish they had included Kairi in DDD and had tackeled her past there. It would have given her more of a drive and personal stake in the war.
That said I'd be really surprised, if Kairi's past didn't tie into the Master of Masters plans. He seemed to want what happened to her to happen. He made sure that there was no projection of her world and her in the Age of Fairy tales.
He created the pod that Xehanort put her into in the trailer. I'd be surprised, if there truely were no connections.
I also feel like what she'll learn will somehow tie into DR and UX, maybe via grandma. And seeing she's in the final world i imagine she'd meet Not Stella.
So while it does still involve Xehanort i imagine it'll push forward the Foreteller arc.