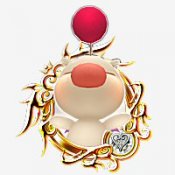 We are Moogle! Hear us...kupo?
Joined

Oct 5, 2009
Messages

8,349
Awards

17
Location
Not gonna lie, it's beginning to worry me. I was fine with the time travel because Nomura was smart and made it so that it didn't mess with anything, it was only the explanation of how it works and why it was used that made it confusing.

This, on the other hand, has me skeptical. Kingdom Hearts is already weird with its plot, but its always been weird in that understandably anime-ish kind of way. The story contents of Chi, on the other hand, are making me think the story may get far fetched enough to actually make me upset with it, and I'm one of those diehard "KH can do no wrong" fanboys who has been totally fine with the entire KH lore thus far.
I also think time traveling, while still crazy, kind of has no option but to be in the series now given we needed all these version of Xehanort and how could they not be if not for some level of time or dimension traveling.
To be frank, I never saw the necessity of Chi (still don't), which is why I was super happy that it was originally non-canon and even when it became canon didn't mind since hey, the Keyblade War DID happen, and it was cool to see it happen. That being said, yeah, now that Chi has so many recurring connections to KH3 (not just the overarching plot of causing the worlds to fall to darkness leading to KH1) I find myself getting a bit flustered.
That being said, I'll always be one of those, as you put it "diehard KH fans who thinks KH can do no wrong." There has been a lot of unnecessary Kingdom Hearts stuff both in the games and even in merchandise (I cannot reiterate enough that 14 Sora Play Arts figures and 0 Aqua Play Arts figures is not OK), but, if it's blind love, it's blind love, I'm just like "sure" and I keep going