death approaches
Staff member
Joined

Jul 13, 2008
Messages

34,182
Reaction score

2,225
Points

115
Awards

85
Age

29
Location
Website
Square Enix Japan has updated the official Kingdom Hearts -HD 2.5 ReMIX- website with the official release date of the upcoming HD Remaster in Japan and a plethora of ordering options for the title.
Kingdom Hearts -HD 2.5 ReMIX- will be released on October 2nd 2014 in Japan, two months before it releases in the west, and six different ordering options to choose from. There is a standard edition of the game, a starter pack containing both 1.5 & 2.5, a collector's pack with both remasters and a Bluray music disk & concept artbook, and three other packs with a limited edition Kingdom Hearts II Sora Limit Form Play Arts Kai which will only be available from ARTNIA and the Square Enix e-STORE. 
All of the first print copies of Kingdom Hearts -HD 2.5 ReMIX- will contain special codes for Kingdom Hearts χ[chi]. When players redeem these codes, they will receive an Anniversary Set containing a rare Key Art card and more!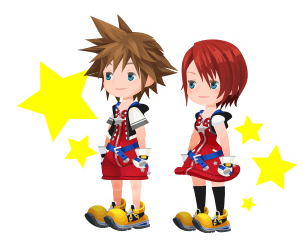 October 2, 2014

6,648 yen + tax

Standard edition of the game

KINGDOM HEARTS HD 1.5 + 2.5 REMIX STARTER PACK

October 2, 2014

9,800 yen + tax

Includes both remasters

KINGDOM HEARTS HD 1.5 + 2.5 REMIX COLLECTOR'S PACK

October 2, 2014

14,000 yen + tax

Includes both remasters, a Bluray music disc with 80 tracks, and a series conceptual artbook with additional information

KINGDOM HEARTS HD 2.5 REMIX +
KINGDOM HEARTS II Sora Limit Form PAK

October 2, 2014

15,037 yen + tax

Standard edition of the game with limited edition Kingdom Hearts II Sora Limit form Play Art Kai




(Available only from ARTNIA & Square Enix e-STORE)

KINGDOM HEARTS HD 1.5+ 2.5 REMIX +
KINGDOM HEARTS II Sora Limit Form PAK
STARTER PACK

October 2, 2014

18,189 yen + tax

Includes both remasters + limited edition Kingdom Hearts II Sora Limit form Play Art Kai




(Available only from ARTNIA & Square Enix e-STORE)

KINGDOM HEARTS HD 1.5 + 2.5 REMIX +
KINGDOM HEARTS II Sora Limit Form PAK
COLLECTOR'S PACK

October 2, 2014

22,389 yen + tax

Includes both remasters, a Bluray music disc with 80 tracks, and a series conceptual artbook with additional information + limited edition Kingdom Hearts II Sora Limit form Play Art Kai




(Available only from ARTNIA & Square Enix e-STORE)