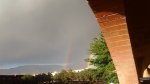 Joined

Nov 2, 2011
Messages

5,451
Awards

2
Age

26
Location
Website
Sorry, I have a hard time entering.
Author's Note: A sequel to Dawn to Dusk. I hope you enjoy this.

I welcome feedback.Chapter 1~Repeated Events~​
"
Time, it only repeats itself.

And, we are only destined to play our parts."
A fifteen-year-old teenager jumps up from his bed. He glances around and places both feet on the shaggy, orange carpet before standing. The boy's mother calls him from downstairs and tells him that it is time for breakfast. The boy heads down the stairs, greets his dog, Amber, and sits at the table with his father that is reading the newspaper. His mother places two plates full of pancakes, bacon, and scrambled eggs before her husband and their son and goes back to her cooking. "Thanks honey," the boy's father says before he takes a sip from his mug full of coffee.
"Oh, it's no problem, dear," the boy's mother replies with an eager voice as she turns off the hot, gas oven before sitting down next to their son and eating her own breakfast of bacon, pancakes, and scrambled eggs.
The doorbell rings and the boy's father answer it. "Lea, your friend, Isa is here," his father shouts from the doorway.
Lea excuses himself from the table, puts his dish in the sink and then runs outside to meet up with his friend, Isa. The two boys, both blue and red-haired speak to each other excitedly about sneaking into the castle. "I can't wait to find out what those creeps are hiding from us," Lea said happily.
"Yeah, I hear you. Hopefully, we won't be thrown out by King Ansem's guards, Aeleus and Dilan this time as they caught so many times in the past," the blue-haired teenage boy known as Isa replied with a worried tone and expression.
"You worry too much, Isa," Lea replied with a smirk. "Now, let's go!"
The two boys venture off to the large, stone castle that overlooks the miniscule, colorful town below. They make their way up the giant, stone staircase and in front of giant wooden doors of the castle. Lea looks around for the two juggernauts that usually patrol this part of the castle, but they are not around. The redheaded teen turns around with a wise-cracking, arrogant smile to the cautious, blue-haired teen. "I told you Isa that there was nothing to worry about," the redhead replies as he is about to charge forward into the giant, wooden doors of King Ansem's castle.
"Hey Lea, do you hear that," Isa asks from out of nowhere.
"Huh, what are you talking about?" Lea asks as he turns to meet his friend's green eyes. "I don't hear any-"
Lea instantly quiets himself as the sound that Isa heard gets louder. "Somebody's crying," Isa replied and he chases after the sound.
"Hey," Lea shouts as he runs after his blue-haired friend.
Isa finally stops once he finds the source of the sound. A small, brown-haired boy with a white shirt with blue trims, yellow sandals and red shorts sobs into his tiny hands. "Why did he bring me here?" the little boy demands to himself as he continues to cry, "I want to go home. I want my mommy, my daddy and my Riku!"
"Hey kid, will you knock off that crying?" Lea demands from the apparently four-year-old boy.
The boy glances up from his knees and instantly his eyes widen. "GET AWAY, YOU BIG MEANIE!" the small boy whines.
"Hey, who are you calling big meanie?" Lea demands from the little boy.
"You're the meanie that took me away from my home! I wanna go home! I want my mommy, my daddy, and my Riku," the boy shouts in a piercing scream, which instantly freaks out both teens as they look around frantically for Ansem's two juggernaut guards.
"Hey kid, you need to cut that out," Lea said in a whisper as he tried to quiet the small tyke. "Do you want to get us caught?"
"I DON'T CARE! I JUST WANNA GO HOME!" the little boy shouts again.
This time, two gruff voices echo throughout the castle. Lea and Isa glance at each other with fright. "I told you to cut that out," Lea replies to the small boy.
The small boy glares at Lea, "I don't care! Take me back to my home, you big meanie!" the small boy orders as he gets up to his full height, walks over to Lea and stomps on his feet.
Lea groans in pain. He glares at the now cackling, little tot. "I think I heard that noise coming from over there," one of the guards replies.
"Lea, we need to go," Isa said to Lea with urgency in his voice.
"I know, Isa, but I can't get this brat to shut up," the redhead replies as he holds his injured foot.
"I have a name, big meanie. It's Sora, S-O-R-A," the small tyke snarls at the redhead.
"I don't care what your name is, pipsqueak," Lea snarls back.
"Knock it off you two," Isa said as he steps between the two.
"Isa, be careful," Lea warns his blue-haired friend.
Lea this time turns around to smirk at his friend. "I got your little solution memorized, Lea. Plus, I know how to deal with kids his age, after all I have six brothers," Isa replies as he turns his attention to the glowering and untrusting little boy known as Sora.
"Your name was Sora, right?" Isa asks the little boy.
The boy nods, "Yes sir, that's right." He is still untrusting towards this strange teen. He continues to back himself into a corner. "Are you going to hurt me like the big meanie?" Sora demands from Isa. Lea is just protesting in the background.
Isa shakes his head and smiles at the little boy, "No, I won't hurt you like my friend over there did. I'll help you get back home, Sora."
"Do you promise," Sora asks. His large, blue eyes are still full with hurt and mistrust.
"I promise," Isa answers.
"Do you pinky-promise?" Sora asks again. His eyes still holding that mistrusting aura in them and him steadily approaches the blue-haired boy.
"Can we just get this done and over with before those goons of King Ansem get us," Lea demands. Both Sora and Isa glare at Lea and then go back to their promise.
"I pinky-promise," Isa replies as he wraps his larger pinky around Sora's smaller one.
"
Father is dying, because of you! You NEED to die!"
A large shriek erupts through the small boy's head and even Lea's. Both boys faint before Isa. The blue-haired boy glances around frantically. He screams the two boys' names and attempts to wake them up, but his attempts prove futile. The two guards eventually happen upon the three boys. Their cold, blue eyes glower at the sobbing Isa. "Intruder, what are you doing here?" Dilan demands
.
"I don't care," Isa screams at the guards. "Help my friends, you must!"
Aeleus nods and approaches the redheaded teen and the brown-haired child. His partner, Dilan just scoffs and heads back into the castle to fetch King Ansem. Aeleus and Isa walk back to Lea's home. Mr. Amagi and Mrs. Amagi, Lea's parents are both dumbfounded about seeing their son, Lea collapses, especially in the arms of one of King Ansem's arms and also Isa carrying a strange boy that they both have never seen before. The two, redheaded adults watch as Aeleus and Isa walk up the stairs to Lea's bedroom and place the two boys into an old bunk bed.
Aeleus and Isa make their way down the stairs, while Lea and Sora sleep upstairs. The smaller boy is on the top and Lea is on the bottom.
"It's my lucky charm be sure to bring it back." "Best friends forever!" "I'm always with you!" "Sora!"
"Riku," the little boy grumbled in his sleep. Lea woke up. His forehead crashed into the ceiling of the top bunk. He groaned
in pain and cursed to him, "I thought I told dad to get rid of this old bed," he said.
Lea got out of his bed slowly and making sure that he didn't hit his head again. He heard the small boy mumbling and wondered where it came from. He peeked to the top of the old, bunk bed. Lea's eyes widened as he saw the boy that was sleeping there. It was that annoying brat from earlier. Why was he sleeping in his room? Lea would have to get some answers from Isa. Isa would know.
Lea made his way downstairs. His parents, Isa and King Ansem sat in his living room. Lea was awed by the scientist-king being in his home. The teen bowed his head, but the king just told the boy to sit down in a calm and polite voice. Lea sat down next to his friend, Isa. "I am aware that your son and that foreign child have appeared as my guard, Aeleus took him here and I was informed about the two children collapsing from my other guard, Dilan.
"I am sorry Ansem-dono," Mrs. Amagi said. "He shouldn't have been there."
"It's nothing to worry about, Amagi-san," the kind king said to the redheaded woman. "But," Ansem turned and faced Lea. Lea nearly fell over backwards as the king's orange eyes bore into his. It was like Ansem was looking straight through him. He then turned back to Lea's parents. "I have been informed that the foreign child has no family or anybody that knows him in this world other than my guards, your son and your friend. Will you look after that boy?"
Lea's parents nodded, which left Lea dumbfounded. King Ansem left as did Isa. "You can't be serious! Why do we have to take in that brat?" Lea screamed at his father and mother.
"Lea, be quiet, do you want to wake him up?" Lea's mother asked in a quiet voice.
"I don't care if I wake him up!" Lea shouted. "Why did you guys agree to take care of him? Isa's parents, heck King Ansem can care for that little pipsqueak!"
"Lea Jason Amagi, that's enough out of you. You know, darn well that Isa's mother and father already have their hands full with their seven kids. And, King Ansem the Wise and his apprentices already have hard enough time taking care of that orphan, Ienzo. Go to your room!" Lea's father shouted back at his son.
"Fine, take care of that little brat for all I care," Lea screamed as he stomped up the stairs. He slammed the door open, which awakened Sora from his sleep. "Hey, what's the big deal, you big meanie?!" the little boy shouted from the top of the bunk.
"I don't give a damn," Lea stammered off at the little boy.
Sora covered his mouth and made an 'Ah' sound. "Ah, you cussed! I'm telling!"
Sora got up to his full small height and climbed down the wooden ladder. He raced towards the orange door and opened it. Lea ran after the small boy. "I won't allow you to tattle on me, pipsqueak!" Lea hollered as he chased the small boy down the staircase.
"Lea Jason Amagi," Mr. and Mrs. Amagi shouted their son's full name, which caused the redhead to stop in his tracks.
Sora ran towards Mr. and Mrs. Amagi. Mrs. Amagi cradled the small boy close to her, while her husband glowered at their son. "Why were you chasing after your brother?" Mr. Amagi demanded.
"He's NOT my brother," Lea shouted.
Sora moved closer to Lea's mother. "Lea Jason Amagi, we agreed to take care of Sora. King Ansem offered us to take care of him, while he finds a way to send Sora home," Lea's father said.
"I don't care. If you need me, I'll be in my room. Second thought, don't bother me and take care of your precious son," Lea said as he stomped upstairs and went to his room. "Oh, and he's not sleeping in my room tonight. Got it memorized?!"
"Oh boy, where did we go wrong with him?" Lea's mother asked her husband.
Lea's father just shrugged.
The next few days passed without coincidence. Mr. and Mrs. Amagi had managed to get the paperwork filled out to adopt Sora, which officially made the boy part of the family. Lea was still not a happy camper about it, especially since his parents decided to go out of town and left their oldest son alone with the annoying four-year-old. The redheaded teenage didn't know how he was going to cope with this brat, especially since Sora hated his guts. However, he did manage to get by with it thanks to Isa coming over to visit. Sometimes, the blue-haired teen would bring over his younger six siblings and they would always make a mess of Lea's house, which left the redhead a lot more agitated than before. Thankfully, today was different as Isa had agreed to babysit Sora for the day, which Lea really happy as he now had the house back to himself once again before the child had unexpectedly arrived in his life.
Isa's brothers didn't seem to take well to the brunette. Sora just ignored them and went to another part of the yard where the boys wouldn't bother him. Isa worried about this, because Sora wasn't usually like this. Sure, Sora hated Lea with a passion, but the boy didn't like to be alone. He always wanted to be around people. Isa managed to tuck his brothers into bed that night and it was almost time to take Sora back to Lea's house. "Sora, what's the matter?" Isa asked the boy as he and the small boy walked home.
"I wanna go home," Sora muttered.
"But, Sora, I am taking you home right now," Isa replied.
Sora had tears streaming down his face. He glared at Isa. "I wanna go to my real home! I want to see my daddy, my mommy and my Riku!" the small boy shrieked, which caused some dogs to begin barking and some people began turning on their lights.
Isa glanced sadly at the little boy. "I'm sorry Sora, but we just don't how to get you back to where you were originally from," Isa said in a soft voice. Sora just glanced away from the blue-haired teen. "I will get back home somehow. Nothing will stop me!" Sora said in a rather cold and determined voice, which seemed to run chills down Isa's neck.
They finally reached Lea's house. Isa ran the doorbell and Lea shouted, "I'm coming, got it memorized?!"
Lea answered the doorbell, "It's about time you got here." The redhead let the two into the house. They sat down in the living room. Lea sat on an orange bean-bag chair while Isa and Sora sat on the red sofa that looked similar to a fire.
Lea went into the kitchen and asked Isa what he wanted. "Some tea would be nice," Isa called.
"Yeah, and get me some orange juice, big bro!" Sora yelled.
Lea came back into the living room. He had only a blue cup, which he gave to Isa. Sora glared at him. "Where's my orange juice, big bro?!" Sora demanded as he started to sob.
"Gee, cut out the crocodile tears," Lea said.
"Only if you get me back home to my daddy, my mommy and my Riku," Sora replied as he started to turn red and the tears started to fall from his eyes.
Lea just snarled at the little boy, "We've been through over and over. Why don't you just quit on that whole magical story about somebody that looked like me dragging you here? We've tried getting you back to your home, but we couldn't. Now, can you knock it off? Got it memorized?!"
Sora ran up the stairs and into Lea's bedroom, despite the teen's constant complaining about not wanting to share a room. His parents just seemed to not care. Sora climbed the latter to his bunk, which his new parents still kept, despite Lea's constant complaining about getting rid of it. Apparently, nobody seemed to listen to Lea. Sora sobbed into his pillow, "I JUST WANNA GO HOME!"
"
Nobody how much we cry, fate can't be changed. We're all destined to follow our own destinies."
Lea managed to calm his nerve. He fixed himself a Mountain Dew Code Red soda and sat down next to Isa. The redhead and the blue-haired boys both drank from their blue and red cups. Both of them wiped their lips. "I'm sorry for Sora's rudeness, Isa," Lea apologized.
"It's alright, Lea. I've seen worst from my brothers," Isa chuckled.
Lea vaguely smiled. He just glanced towards the big television that sat in the middle of the orange living room. "Well, I just wish he would stop acting like this," Lea sighed, "why does he want to go to wherever he came from so much? I just don't get him some times."
"Try putting yourself in his place, Lea. How would you feel if you couldn't see your family or friends ever again?" Isa asked as he took a sip from his nearly empty cup of tea.
"I guess, you're right," Lea replied. "But, I just wish he would just open up to me, instead of always putting me in the distance."
"Perhaps, you should start be nice to him, Lea," Isa said.
"Why do I have to be nice to him?" Lea replied as he nearly stood up from the couch. "He should be nice to me. Got it memorized?!"
"Lea, that's exactly what I was talking about," Isa said. "Try putting your arrogance away and sympathize with Sora.
Perhaps, then you two can finally settle your differences."
"I guess you're right," Lea said.
A loud sound then rang throughout the living room. It was the old grandfather clock that sat in the kitchen near the family dining room. Lea groaned as ten dings echoed into the living room, "It looks like it's time for you to come home, Isa."
"Yeah, you're right," Isa said as he finished his last bit of tea, went into the sink, washed it, put it back into the cupboards and then went to the front door. Lea did the same thing with his cup and met Isa at the door. "I'll see you tomorrow. Got it memorized?" Lea said.
"Yeah, I got it memorized, Lea," Isa said with a smirk as he let himself out. Lea locked the bottom door.
Lea went up the stairs towards his room. He slowly opened the door and heard some quiet snoring. Lea smiled as he glanced up to the top bunk and thought, "He sure is cute and peaceful when he is sleeping."
"Alright, Isa, I'll give it a try," Lea said to himself as he got ready for bed.
Last edited: