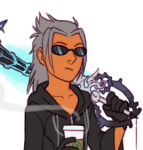 Joined

Jul 5, 2015
Messages

4,520
Awards

20
So they do their job well in the vein of giving proper insight and characterization to characters and plot points we didn't get in the games? Definitely sounds worth buying, then. Although I still have a lot of distrust in Kanemaki's writing skills. I'll have to give it a try myself.
I get the feeling that the author might be better at extrapolating in pre-existing events and fleshing out established characters than coming up with an original story herself. Which I can kind of understand... there's less that can go wrong when you have some established qualities and characteristics to work off of.
A fanfic writer around here once told me that he had a certain dislike for OC's in KH fanfics because they tend to "hijack" the story, shoving the pre-existing characters out of the spotlight or moving them to roles like "minor love interest." I guess Kanemaki's work with Days is an example of this. :/
Also, by "books" do you mean there's more than one book per game? Are the NA releases omnibuses?
Er... actually, I don't know. Guess I kinda made a thoughtless assumption there, huh?
That's pretty high up the ladder, actually. It's interesting to think that the novels are that important/canon.
I'm slightly saddened that Amono's manga series isn't as high up... it's delegated to "AU canon," but tbh the canon story needs some of the stuff that the manga changed. TuT