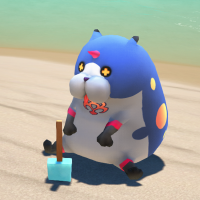 Site Staff Manager
Staff member
As is customary here at Kingdom Hearts Insider with new game releases, we're going forth and setting things up for our countdown to celebrate! Since we first saw
Kingdom Hearts 3D
at E3 2010, albeit simply as the name of a technical demo just to show off the franchise on the Nintendo 3DS, fans have been eagerly waiting at the edge of their seats for the next installment of this series; the one where we'll finally be able to take everything we've learned about the past and take the next step forward in this grand adventure!
We here on KHInsider's site staff have been with you through thick and thin; through deciphering the messages that may or may not have been hidden in every nook and cranny of each interview, dissecting the trailers beyond recognition and zooming in to find every detail of each screenshot or render that's been released, but now we can finally see the finish. In the words of a wise man,
"There ain't no gettin' offa this train we're on, till we get to the end of the line."
We want to make these last few weeks before we part ways and dive into the Sleeping Worlds something special, but to do that,
we need your help
!
Submit your entries to
Sign
,
Master Spockanort
,
Souji Seta
or
Chaser
through PM or send an email to us at
kingdomheartsinsider on gmail
by
July 31st, 2012
. The sooner the better! For more details and if you have any questions, feel free to post them right here.
LET US KNOW WHY YOU'RE EXCITED FOR KINGDOM HEARTS 3D [Dream Drop Distance]!​
Is it the story, the step forward to mending the hurts of those who wait for him?
Perhaps it's the characters, old and new who've returned from realms all over? Who are you excited to see and interact with?
The worlds that welcome you with open arms inviting you to delve into their mysteries and secrets? Which ones are you looking forward to most?
Or the gameplay; the new additions of flowmotion, Reality Shift, maybe even the adorable new Dream Eater companions? Which ones do you like?
Sora and Riku - tell us your predictions of which intertwined scenario you'll enjoy more!
Composers Shimomura, Ishimoto and Sekito's music - which tracks are you looking forward to and why?
Any topic will do and you are completely free to choose which one you can think of to write about! We'll feature your entries here on the front page where it'll be seen by thousands of viewers daily each day leading up to the release! We only ask that you please
refrain from including spoilers
for those who have been trying to start the game fresh. You are allowed to send in more than one entry per topic, but as everyone will want to chip in their two munny, we would very much appreciate if you not send in complete dissertations for us (though we wouldn't say no to featuring them as editorials)!
SHOW OFF YOUR KINGDOM HEARTS 3D [Dream Drop Distance] FANART!​
Modeling, texturing, oil paints, finger paints, crayon, color pencil, sculpting, and even cosplay; we want to see it all! Do you have your very own handmade Dream Eater plushie to share? Or maybe you've created a grand collage of the main characters in Namine's style? We'd love to see anything and everything you're working on!
Last edited: