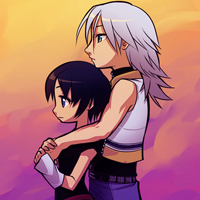 Joined

Jan 31, 2008
Messages

16,306
Awards

5
Age

37
Location
Website
You know, for being Nomura's favorite Organization character, he was the most poorly written in Days.
I disagree. I grew to like him quite a bit. He's level headed and rational while at the same time with a touch of that gambling romance sense to him. He was about the only one that didn't treat Roxas like utter crap (aside form AkuShi) after the CoM team up and left (and even with them in on relative terms), but actually tried to help something grow out of the munchkin kid.
I don't think he was less poorly written than Demyx for instance - maybe less in-game referenced since they couldn't bash him.
But either way, I doubt all of the Organization members' Somebodies will appear in BbS. I almost don't want them all too- otherwise it would be too many characters and not enough individual character development. So the ones that won't appear (or hopefully shouldn't), ought to get some closure.
Like I said - cameo would be nice. Like if they'd go into a casino or something and there would be Luxord's Somebody.
Otherwise we're risking having them in chronological-future games
I mean, you figure Roxas could have put up a little bit of a better fight.
Hm. Wonder however if
Xion didn't have to do with it. They could always excuse it as such. Knowing Riku wouldn't hurt Roxas too badly, that it'll end up with them both returning to Sora, and knowing it's either that or being killed by Xemnas, Xion could've stopped him from resisting from the inside
Just naming one reason they could possibly use - if they won't go there and bother to name a reason, of course.
Yeah, and on that note- I'd like to see a little bit more about the Chamber of Waking/Repose.

I thought for sure that we'd get some kind of hint about Xemnas and Aqua in the Chamber of Repose.
Well that's what Final Mixes are for XD; Unless he's being over lame and leaving all those stuff to be expanded upon in BBS.
And then in the BBS Ultimania we'll have a whole section where he explains stuff that happened in Days going by the things we discovered in BBS.
It's Nomura. Wait and watch it happen.