trapped in revamp hell
Staff member
Joined

Nov 1, 2009
Messages

17,758
Awards

36
goldpanner has translated Nomura's Scenario Mysteries interview from the KINGDOM HEARTS 3 Ultimania! He elaborates on various events that take place over the course of the game, with a focus on those that occur shortly before the final battle.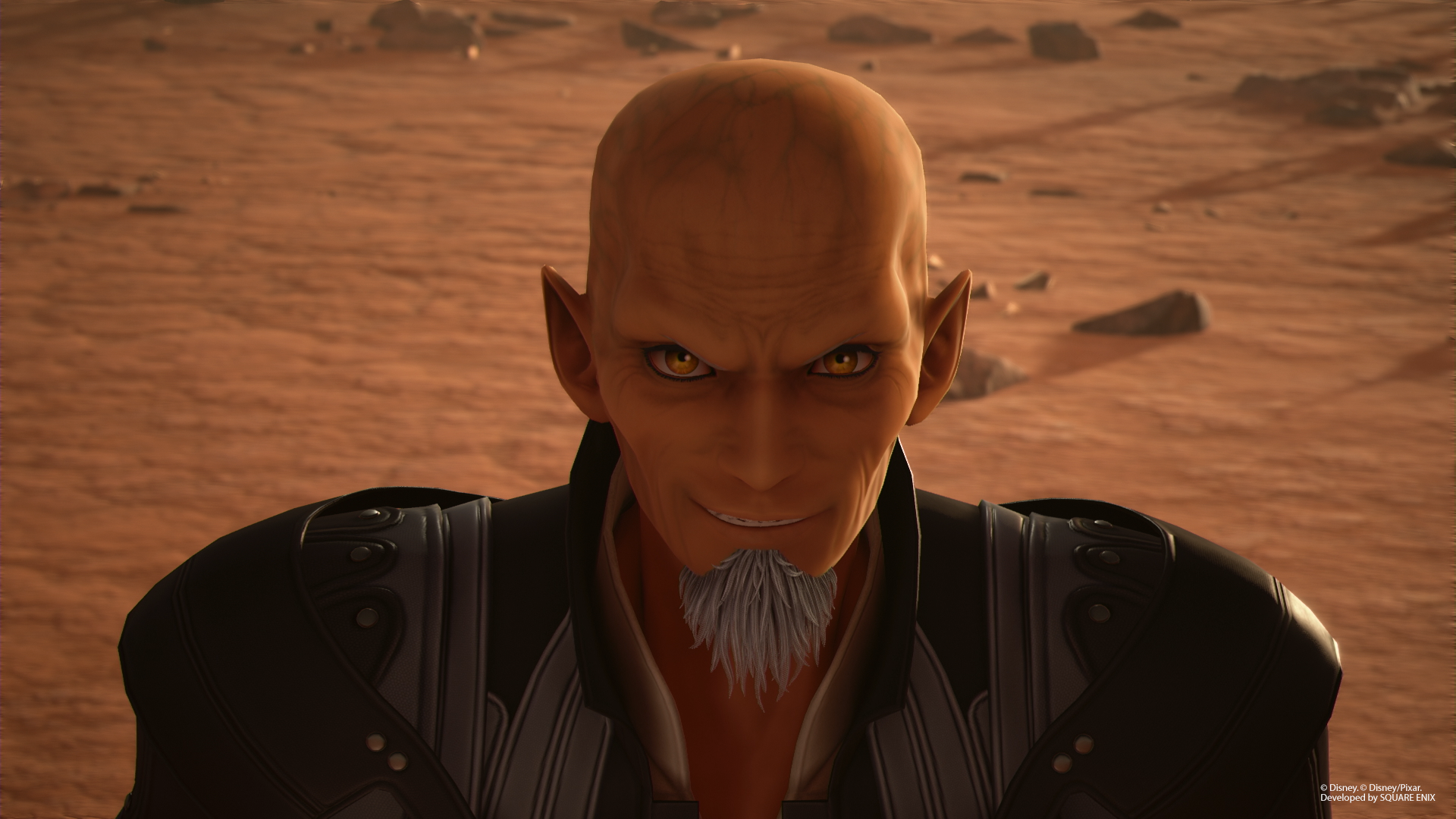 Kingdom Hearts III
Scenario Mysteries

—Is the speech Sora gives in the opening, the one that begins with "They can take your world, they can take your heart," a monologue by Sora post-ending?

Nomura: That's not the only answer, but the words do suggest Sora's mental state post-ending.

—In the Final World, Sora tells Namine, "Someone else special I know won't let you down." (*T/N: Literally, "the person you miss/want to see the most will come get you.") Did he mean Riku?

Nomura: He meant that the person Namine wants to see the most would come get her, as a way of cheering her up. It is actually Riku, in the form of the one who has been entrusted with the Riku Replica's feelings, who does go and get her. Namine does feel a special connection to Riku (the Riku Replica.)

—Sora doesn't thank Namine in this game, either. Is this something that is going to be carried over into a future game?

Nomura: Well, Namine's revival did happen at the end of the game, effectively making it something that will be drawn out longer.

—How did Ansem the Wise and Ienzo and the others move Namine's heart into a vessel without Kairi being there?

Nomura: When Kairi was defeated the first time in the Keyblade Graveyard, Namine's heart was thrown into the Final World, right? And Namine's heart was also thrown out just before the final battle, when Kairi was hit by Xehanort's attack. I do plan to show the details of what happened after that.

—In the Final World, there was a "Nameless Star" whose scene was voiced. Who is she, and who is she waiting for?

Nomura: I can't reveal that yet. But I can say that whoever she is waiting for, Sora knows their name.

—When we leave the Final World, we are back to the point just before Sora and his friends were defeated. Why is that?

Nomura: The power of awakening is essentially "the power to put sleeping hearts back the way they were." But the impact of forcing his friends' fading hearts back the way they were rewrote reality, and created a singularity. The rewrite caused the chronology in which they were destroyed to have "never happened."

—How did Roxas appear at the Keyblade Graveyard?

Nomura: At that point in time, Ienzo had basically finished making Roxas' body using the replica Vexen and Demyx brought as a base and the data from Twilight Town. This is also how Xion was manufactured using Sora's memories in KH Days. When he was at a state where all he needed was for the heart inside Sora to return, his friends were in peril. So he used his connection to Sora to rush to the Keyblade Graveyard, where his heart returned to his new body and his revival as Roxas was complete.

—When Marluxia is fading, he says, "I am on the cusp of reclaiming my identity, my purpose for being." Did he remember that he was from the distant past?

Nomura: Yes. I think if you play KH Union Cross to the end, you will learn his purpose for being.

—When Larxene said, "I was really just along for the ride," she must have meant with…

Nomura: Marluxia. It's not certain whether Larxene has her old memories, but she was interested in Marluxia to a degree for some reason, and became his partner in his plan to overthrow the old Organization XIII.

—Were Marluxia and Larxene also the Keyblade wielders of old that Xemnas was searching for?

Nomura: It hasn't been made clear yet, but I believe those who play KH Union Cross can guess. By the way, Xemnas was also looking for the Chamber of Awakening in KH Days because Ventus, who was sleeping there, was a Keyblade wielder of old.

—So that means Xehanort was aware that Ventus was a Keyblade wielder of old?

Nomura: Regarding that, I think I definitely have to show sometime how Ventus and Xehanort met.

—A question about Terranort. Ansem and Xemnas came from the splitting of Terranort. Does that mean that when they were defeated in KH1 and KH2, Terra was revived alongside Master Xehanort?

Nomura: By all rights, Terra should have been revived as himself at that point in time. However, his heart was still in the clutches of Xehanort, and it was unable to go back, and the shell of his body was the only thing that revived. Then, Xehanort brought the heart of Terranort from the past and put it in that shell of a body he once controlled.

—From when was Terra's heart inside the Guardian*?
(*T/N: They call the Guardian "the Monster Behind." I could be totally wrong, but I think this is a reference to what they call the balloon accessory version of him in the KHUX Ansem avatar board, which is in Japanese something like "Monster Balloon Behind the Ansem Costume.")

Nomura: Terra and Xehanort's hearts were eternally struggling against each other within Terranort. This process meant Terra's heart was caught constantly moving back and forth from its original position to the Guardian. By the way, the official name of the Guardian is "the guy behind him" (laughs).

—What happened to the Lingering Will after the battle?

Nomura: When Terra was revived it caused the Will to vanish, and the armor disappeared. But Keyblade Wielder's armour is like a Keyblade in that even if it disappears, it can be summoned again so long as the wearer is in their usual condition.

—At the end of KH3D, we saw that the New Organization XIII was missing a 13th member. Who filled that spot?

Nomura: Xion. The 12 members who were gathered in KH3D were missing the 13th, Xion, and reserve members Demyx and Vexen. That part may have felt a bit out of nowhere, and I am thinking of a way to follow-up on it.

—Did the members of the New Organization XIII have numbers?

Nomura: I did think of giving them numbers at first, but I didn't go with it in the end because it was too confusing having some members end up with different numbers than before. For example, I had gone with No.1 as Master Xehanort, No.2 as Ansem, and No.3 as Xemnas. But then I thought people would get confused like, wait, so the guy who was No.1 is now No.3?

—When Young Xehanort is fading away, he says, "Goodbye Sora. Your time in this world is..." What did he mean?

Nomura: "Your time in this world is over."* It's hinted at in the ending. Before that scene, he warned Sora, "There's a high price to pay for wielding such power foolishly." The power of awakening is not the power to bring people back to life, but Sora was using it to do just that to his friends. As a result, time was rewound - and Young Xehanort predicted that Sora would pay the price by disappearing.
(*T/N: Literally, "You will fade/vanish from this world." The verb order is different in Japanese, it was the verb "fade/vanish" that got cut off when he died.)

—Was Lea insisting on being called Axel so that when Roxas came back he would recognize him?

Nomura: Yes, but also because when he saw Kairi as Xion, he remembered that there was someone he was supposed to remember, which made him feel that being called "Axel" was important.

—Why does Maleficent know about the black box from the days of old?

Nomura: After KH1, she travelled to the age of KH Union Cross. When she returned to the present after that, the result was her rebirth in KH2. The act of "returning to the present time/going to the future" is connected to how characters from the days of old have ended up in the current time period.

—It seems that Maleficent thinks that the Book of Prophecy is inside the black box...

Nomura: She does think that. It hasn't been shown exactly when she began to think that way, but I do plan to reveal it soon in KH Union Cross.

—In KH BbS, Master Xehanort's goal behind opening Kingdom Hearts was to "create a new world." But in this game, he says it is to "reset the world." Why the difference?

Nomura: What was revealed in this game was another piece of the truth: his goal was "this world is no longer any good, and we have to recreate it from scratch."

—We are interested in why Xehanort would come to such a conclusion.

Nomura: At first, I did want to use a next game to dig down into how Xehanort went from that simple boy playing the chess-like game to an admirer of the darkness. But, if I do that, then the Dark Seeker Chronicle wouldn't have ended with KH3 after all (laughs.) Some ideas had solidified to a degree, but it's shelved for now.

—During the underwater section in Scala ad Caelum, you can see a clock tower like the one that appears in KH Union Cross. Was Scala ad Caelum built upon the ruins of Daybreak Town?

Nomura: Yes. The staff who drew the concept art came to me with two proposals for the clock tower: one standing normally on the seabed, and one hanging upside-down from the surface of the sea. I chose the upside-down one.

—What was the true identity of No Heart, who appeared in KH BbS FM?

Nomura: That was also Master Xehanort. That was the armour he used to wear a long time ago, and in this game he was wearing his current armour.

—Who specifically are the "lost masters?"

Nomura: The seven (Master of Masters and six apprentices) who appear in KH X BC.

—When Luxord was fading away, he gave Sora a "Wild" card. What did that mean?

Nomura: That will come into play later. Perhaps Luxord's card holds the key to Sora's revival.
goldpanner has done a lot of translations for Kingdom Hearts fans everywhere over so many years! You can say thank you to her by buying her a coffee!
Follow Kingdom Hearts Insider on Facebook, Twitter, and Tumblr for the latest updates on Kingdom Hearts Union χ [Cross], Kingdom Hearts 3 and all things Kingdom Hearts! 
Last edited by a moderator: