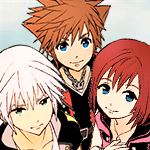 Joined

Dec 5, 2009
Messages

2,003
Awards

6
Location
What's funny about Kairi's shafting to me is that it was so EASY to have it go some other way. How about Kairi as your party member throughout your exploring Keyblade Graveyard, alongside you with the Org 13 and Terranort fights in addition to Mickey, Riku, Aqua, etc. Witnessing the wayfinder and ice cream-obsessed trios reuniting, helping Riku and Mickey alongside Sora. All this and THEN she can get taken away by Xemnas at the last one. That way, Sora and Kairi spend the needed quality together as a battle couple, Kairi gets to "shine", making it more devastating when she's taken rather than, well, merely laughable and annoying.
It was so easy to come up with that option on the fly that it's obvious that direction was deliberately avoided.
Yeah, it's also be a nice parallel to KH2 in which you have Riku join you from the midpoint onward, just reversed.
You could have even had her tag along until all but Xehanort are defeated and then she takes a blow for Sora the way he was going to for her when Terranort attacked. This way she'd die with more dignity and we'd get a SRK team up against the most iconic Xehanort variants.