trapped in revamp hell
Staff member
Joined

Nov 1, 2009
Messages

17,760
Awards

36
KINGDOM HEARTS 2.8 is briefly featured in this week's issue of Jump, focusing on the combat of KINGDOM HEARTS 0.2 Birth by Sleep -A fragmentary passage-.
Thanks to Saken for the translations!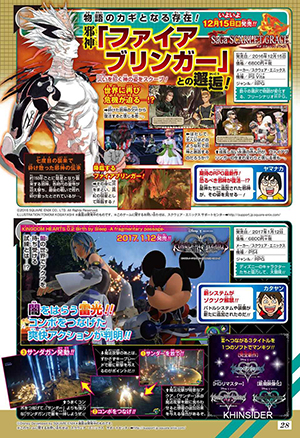 Kingdom Hearts HD 2.8 Final Chapter Prologue

Release date: 12/1/2017 (JP) 24/1/2017(NA/EU)

- Team up with Disney friends and embark on a grand adventure! -

"Finally unveiling the thrilling new game systems!

A fresh new battle system, as well as customization have been added!"

Get your fill with 3 titles, all of which are directly linked to Kingdom Hearts 3, in one complete package!

% Kingdom Hearts 0.2 Birth By Sleep - A fragmentary passage - %

What kind of trials await Aqua in the Realm of Darkness...!?

* Drive away darkness by the power of lightning! *

Deliver exhilarating attacks by lining up combos!

1. Fire off a Thunder spell!

-> The exceedingly skilled in magic attacks, Aqua. Having enemies eat a [Thunder]

related spell in the face could leave them in an electrocuted state!

-> Immediately after firing off your magic attack, continuing your slashing assault

to earn points towards your finale!

3. Burst out with Thundagun!

-> Having succesfully linked up your combo, with power far exceeding that of [Thunder],

decimate foes with the destructive force of [Thundagun]!!
KINGDOM HEARTS 2.8 will be released on January 12 in Japan, January 24 in North America and Europe.
Follow Kingdom Hearts Insider on Facebook, Twitter, and Tumblr for the latest updates on Kingdom Hearts Unchained X, Kingdom Hearts 3, Kingdom Hearts HD 2.8 Final Chapter Prologue and all things Kingdom Hearts!