trapped in revamp hell
Staff member
Joined

Nov 1, 2009
Messages

17,762
Awards

36
Following up from the scan shown two days ago, this time Re:coded has been featured in VJump with several new screens. Check out Data Sora's adentures in Agrabah and Wonderland as he encounters familiar faces and battles the mysterious bugs that have corrupted Jiminy's Journal!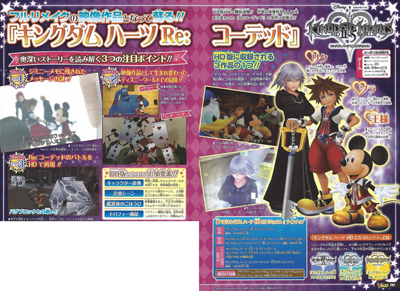 Update: Thanks to Zephyr, we have a full translation of the scan!
Returning into a full remake of cutscenes!!
KINGDOM HEARTS Re:coded

The latest breaking news for the HD version of KINGDOM HEARTS. In this issue, we will take a look into the highlights of KINGDOM HEARTS Re:coded which is being remade into cutscenes!!

Three points of interests to discover in this profound story!

Point of interest Part 1
Mysterious messages are left in Jiminy's Journal!!

"These are not Sora's memories but the memories of those who are connected to Sora."

Sora explores the data world that has been invaded by bugs and searches for the mystery behind the message.

Point of interest Part 2
Adventure through Disney worlds through the footage!!

"Seems like my work here is done!"

Beautiful cutscenes of Disney worlds in KINGDOM HEARTS Re:coded. Surprise and excitement awaits in this adventure in better quality.

Point of interest Part 3
Re:coded Battles are remade in HD!!

Fighting against bug blocks!!

Bugs corrupt the worlds' defenses! Battles part of the adventure throughout the footage are powerful!

Additional elements in the HD version!!

Character Glossary - Introduces characters that have appeared throughout the story, a character glossary has been added!

Additional Cutscenes - The original cutscenes contain over 2 hours or more in length.

Completion Reward - You will obtain a special PS3 custom theme!!

Trophy Support - Trophy support has been added. Collect trophies while you enjoy the game.

HD versions of three games are included into one collection!!

KINGDOM HEARTS Re:coded is the story that leads after KINGDOM HEARTS II. Additional elements and cutscenes have been added and remade into HD footage!

"Okay Pete, give back Riku!"

Even powerful enemies cannot break the ties between strong friendships!

The person in the black coat is a close friend of Sora. He has been following the mystery of the message.

Sora
A hero chosen by the Keyblade. He will go on a big adventure in the data world along with his companions.

Riku
Adventuring in the data world, he assists Sora and The King.

The King
Following the mystery of the message, he requests Sora to explore the data world!
Source: bKvEBVAvUq